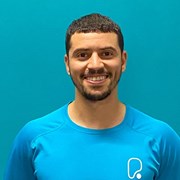 Abdellatif Bejja
Hey I'm Abdellatif,
It's never too late to embark on your fitness journey.
I am a firm believer -without a doubt- that exercise and fitness possess an extraordinary capacity to bring about life-changing effects for everyone.
Leveraging my extensive knowledge and experience, I am fully committed to providing top-tier training and guidance to clients in English, French, and Arabic.
Together, we can focus on a wide range of goals, including Muscle Building, Toning, Nutrition, Injury Prevention, Fat Loss Strategies, Strength Building, and more.
No matter where you are on your fitness journey, I am committed to helping you achieve your objectives. Whether you're a gym novice aiming to conquer your first pull-up or a parent looking to play with your kids without experiencing back pain, I will support you every step of the way.
I offer personalized exercise programs tailored to your unique needs, health considerations, and recovery stage, to aid in weight loss and overall well-being.
Even if you've diligently trained in the past without reaching your desired results, or if you're aspiring to participate in a competition, I am here to guide and assist you in reaching new heights. My ultimate goal is to empower you to surpass your fitness aspirations and lead a healthier, more fulfilling life.
Please don't hesitate to reach out to me. Let's work together to make your fitness journey a resounding success!
Specialist Areas
Bespoke plan
Body confidence
Body fat reduction
Functional specialist
Muscle tone and development
Nutritional guidance
Persistent motivation
Sport specific training
Strength and conditioning
Weight loss
Qualifications
Level 2 Gym Instructor
Level 3 Personal Trainer
Nutrition Guidance