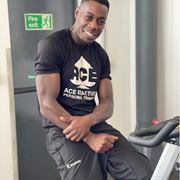 Aaron Martin
Aaron is my name, but everyone calls me Ace. From any fitness journey, exercise and nutrition will play a key role in getting you to your goals, but when you train with me, I also want you to enjoy the journey while you work hard. I love life, and I approach all goals with an energy that you will soon know and never forget.
Do you feel like you could be fitter? Do you need to lose weight for health reasons? Do you struggle to use stairs without feeling short of breath or just want to be able to wear what you like? Then you are reading the right profile feel free to get in touch with me and we can start you on the right path.
I understand how hard and intimidating it can be trying to achieve your fitness goals, but with my support and guidance, I'll be sure to ease your concerns away. Whether it is a weight loss goal, holiday prep or to tone up and feel better about yourself, I will be with you every step of the way.
From aspiring athletes to newcomers in the gym I will be there to train, push and guide you to become the best you.
Ace.
Specialist Areas
Body fat reduction
Muscle tone and development
Weight loss
Boxing
Qualifications
Level 3 Personal Trainer
Level 2 Gym Instructor
First Aid Qualified
Nutritional Advisor
Kettlebell Instructing
Suspension Training Instructor
Level 3 GP Referral
Level 2 Boxercise