We're committed to providing our nation with a safe and affordable place to get a great workout. Being physically and mentally fit has never been more important and we are proud of the role that we are able to play.
Gyms across the UK are back open.
EVERYTHING YOU NEED FOR A SAFE AND GREAT WORKOUT
Take a look inside so you can see how we're keeping you safe

KEEPING A SAFE DISTANCE
We've created the space you need to work out while keeping a safe distance. The gym has also been rearranged and clearly marked out for you to use safely, so it is easy for everyone to follow. We'll also control the numbers in the gym at any given time so it never gets too busy.

EXTENSIVE AND FREQUENT CLEANING
Our gyms will be deep cleaned every night with high-grade anti-viral disinfectant. The team will also clean every piece of kit and surface throughout the day, from dumbbells to treadmills and everything in between, so you can train with confidence.

SELF-CLEANING STATIONS
 We've installed new self-cleaning stations so you can clean your kit before and after use, for added peace of mind. Cleaning stations are located in all key areas of the gym to make it as easy as possible.

HAND SANITISING STATIONS
You'll find more hand sanitising stations around the gym so it's easy to regularly clean your hands during your visit. We ask that you also sanitise your hands before entering the gym to keep yourself and others safe. 

CONTACTLESS ENTRY 
Contactless entry with our new app or keyfobs can soon make your visit safer and easier - QR scanners are being installed in all of our gyms. Our app can also help you to plan your visit by checking the number of people in the gym to avoid busy times and queues.

AIR FILTRATION
We pump over 2,000 litres of fresh air into our gyms every second though our ventilation systems. This helps to dilute airborne virus particles and ensure members have clean fresh air to workout.
VALUE GYM MEMBERSHIPS YOU CAN TRUST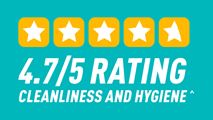 We have successfully reopened most of our gyms and are delighted with the positive feedback from our members, with over 60,000 members rating us 4.7/5 for cleanliness and hygiene in July 2020.

"I'm a Nurse Practitioner and I feel very safe
at PureGym. There are plenty of sanitising
stations and wipes everywhere, and the
staff are constantly cleaning. Members
have also been really compliant from what I
can see, cleaning the equipment before and
after use. I also really like that I can scan a
QR code for entry, so I don't need to touch
the keypad."
Jay, PureGym Member

"The TrainSafe measures in the gym are
the best thing that could have
happened. I like the clear markings and
ample space, nobody is too close, just
perfectly near all the equipment. I
actually enjoy it more like this!"
Parita, PureGym Member

"The new TrainSafe measures are so
easy to follow and just common sense.
Staff are present in the gym, and
resources are well available to
adequately clean everything down. The
box layouts are great as they clearly
outline your boundary and others are
able to avoid coming too close to you."
Maymah, PureGym Member
WORKING TOGETHER
We are delighted with the commitment and passion of our teams and our members for playing their
part in keeping PureGym a safe environment for everybody. Together, we will continue to help inspire
the health and fitness of the nation and local communities that we serve.

From everyone at PureGym, we would like to say a huge thanks to our members for their patience
during lockdown and for following our new TrainSafe measures in the gym. We are really impressed
with how the PureGym community has come together to create a safe space for a great workout at
a time when it's never been more important.
How we're keeping you safe in the gym
QUESTIONS ABOUT YOUR MEMBERSHIP
Yes! Gyms across the UK are back open with the exception of the following gyms: 

London Bank
London Victoria
Nuneaton

Members of those gyms have been emailed with their options. 

Your regular payments remain frozen and you will not pay a penny until after we reopen your gym.

Once we reopen, your direct debit payments will automatically restart on your previous collection date. Any credit remaining from the last payment before your gym closed will be applied.

Depending on the date of your next direct debit there may be a charge to cover the period between the re-opening date and your normal payment date.

We are excited and ready to welcome our members back, for a safe and great workout.

Please refer to your Gym's homepage for current opening hours from Friday 9th April onwards, as a small number of gyms do have different opening hours. 

Any gym operating 24 hours will maintain the high safety standards we have put in place. The gym is deep cleaned through the night, cleaning stations are available for use before and after using kit and social distance measures are still be in place. Our gyms are monitored by our CCTV team overnight and any safety issues can be flagged to the team via the Help Points who will ensure these are resolved.

We're committed to providing our nation with a safe and affordable place to get a great workout, so will only close our gyms if required to do so by local authorities.

If your gym has to close your regular payments will be frozen and you will not be charged while your gym is closed.

All Direct Debit payments will be automatically frozen and so there is nothing that you need to do. If your regular monthly payment has already been processed by your bank, we will credit your membership to reflect the closure period in full when we reopen, and your next payment will be lower. 

We want to keep you safe, so we want to ensure the gym never gets too busy. That is why we will be restricting the number of members in the gym. Before you visit, you can check the app to see the maximum capacity and how many people are currently there and expected busy periods. This will allow you to visit at a quieter time to enjoy your workout.

It is very unlikely that you will need to book a gym slot. However, we have developed our app so that if your gym does get very busy we can ensure everyone's safety by switching on a booking system. We will only do this if we really need to and if we do, we expect this to be only for a few hours per week. 

We will let you know in advance if booking is required at your gym.

We know how much you've been looking forward to getting back into the gym! We want all members to get a chance for a safe and a great workout so we are encouraging members to limit their visit to an hour at busier times. If the gym is particularly busy, you may get a SMS to let you know when you're nearing an hour, just as a little reminder.

We've made it even easier - all gyms have a new QR code scanner and you can access your unique QR code via the app. If you're not wanting to use the QR code, you can still use your key fob, or simply enter your PIN as usual. Don't worry, all PIN pads now have hand sanitising gel next to them.

It's unlikely you'll have to queue but to be sure you can avoid busier times by checking the app. The app will let you know when the gym will be busy and how many how people are in the gym at that time.

Changing facilities are open in our English gyms as normal along with showers and lockers. So you can still maintain social distancing, we have taken some of the lockers, sinks and hair dryers out of use, but there should still be plenty for everyone.

We're pleased to confirm we are now able to offer shower facilities at our gyms in Northern Ireland also.

If you can, we encourage people to change before coming to the gym.

Yes. Classes are available to members at our gyms in England, Wales, Northern Ireland and Scotland, with the exception of our gyms in Glasgow.

To book a class, use our free App, or log into your Member's Area. If the class you want is fully booked, you can save a place on the waiting list and we'll send an app notification to let you know if you've got a spot!

To keep members safe in gyms where we can continue to run classes, we've made a few temporary changes. These include: a reduction of class spaces and a limit to the timetable means members can keep a safe distance. Please check your gym page on the app/website for class details at your gym.

While gyms are closed your regular payments will be frozen and you will not be charged while your gym is closed.

After your gym reopens, your direct debit payments will automatically restart on your previous collection date. Any credit remaining from the last payment before your gym closed will be applied. Depending on the date of your next direct debit there may be a charge to cover the period between the re-opening date and your normal payment date.

If your gym has to close due to local restrictions you will not be charged for the time that your gym is closed. 

We understand that not everyone is ready to return to the gym just yet. That's why you can freeze your membership for a little longer, until you are ready. We've made it really easy to freeze, please follow these steps;

3.Scroll down to 'FREEZE YOUR MEMBERSHIP' and select

4.Follow the instructions to freeze

We're sorry to hear you're wishing to cancel. We want you to know that safety is our No.1 priority and so we have made our gyms a safe place to train.

If you do wish to go ahead and cancel your membership we have made this super simple! All you have to do is cancel your Direct Debit with your bank at least 3 - 4 working days before your next payment.

Yes, Personal Trainers are looking forward to welcoming you back and have guidelines on how to provide safe, socially distanced training!

Yes of course! We know how much you've enjoyed the virtual workouts we've been running throughout the closure - this content will still be free to use.

It is currently okay to train with another person but you must both remain in individual dedicated workout area and not share.  Stay in The Box – personal workouts areas are marked with white boxes on the gym floor. You may share kit between you but only if you sanitise your hands and kit before and after use.

In England, Wales and Northern Ireland, spotting is not allowed under any circumstances. Please make sure to consider this when selecting what weights to use when working out.

In Scotland, spotting is only permitted if you are part of the same bubble and both wear masks.

If you do not follow these rules, or abuse our staff, you will be asked to leave and may be banned.
Safety in the gym: Your questions answered
We have worked with Dr David Lawrence, a highly experienced physician who has over 35 years NHS service and brings a breadth of knowledge to health and medical issues and the challenges of delivering health care across the spectrum in the 21st century.
Dr David has been advising us on the development of safer standards within PureGym and here he answers some of the questions you may have. 
All PureGyms will be deep cleaned overnight and regularly through the day, using high-grade disinfectants that will kill the virus.

It is impossible to keep any environment 100% clean, as evidenced even in hospital operating theatres. However, it is possible to make environments 'safe' by undertaking the appropriate cleaning and disinfecting measures. COVID-19 is easy to kill with most readily available domestic cleaning agents and with thorough hand washing with soap for 20 seconds or more. Coupled with safe distancing and avoidance of touching the face, together with other building environment measures, including good ventilation, a safe environment can be established and maintained.

Being physically fit is highly protective against a range of illnesses. It also boosts the immune system. COVID-19 particularly affects those with underlying health conditions, diabetes etc. and those overweight. Given that the virus is now considered to be 'endemic' within the community, it is more important than ever to maintain one's fitness.

Additionally, recent Public Health England (PHE) research has found that excess weight can increase risk of serious illness and death from COVID-19. Supporting people to maintain a healthier weight may reduce the serious effects of COVID-19. 

No, COVID-19 is not transmitted through sweat.

Don't forget, wiping sweat from your face could lead to the virus being passed from your hands to your face. So it is very important to regularly use hand sanitisers (60% alcohol +) and avoid touching your face as much as possible.

PureGym has added more hand sanitising stations in every gym so you can easily access these throughout your gym visit.

We pump over 2,000 litres of fresh air into our gyms every second though our ventilation systems. This is vital in the fight against COVID-19 as it helps dilute airborne virus particles and ensure members have clean fresh air to workout. Our systems provide a fresh air supply to all areas of the gym such as studios and changing rooms and air is not recycled air between different areas. Our air handling systems provide more fresh air than many other environments such as offices, supermarkets and shops.

No, there is the same chance of getting COVID-19 in all areas indoors, the key is keeping social distancing in place, follow cleanliness guidelines and aerosolisation guidelines.

Risk is essentially divided between 'outdoor spaces' and the building environment, or 'indoor spaces'. R rate (the rate the infection is spread by one person) is much higher indoors, including within households, shops, and high-occupancy workplaces. Gyms fall into this category, especially due to the increased individual activity of the occupants, but this can be mitigated through the special measures being deployed and people following the guidelines put in place.

PureGym has introduced new cleaning and social distancing measures in all PureGyms to ensure that members can work out safely.

COVID-19 survives in droplets or possibly aerosols (very fine particles) and can be transmitted person to person via close contact.
At 2 metres distancing the majority of droplets fall to the ground and thus risk is greatly reduced.

Good ventilation can reduce this risk through dispersion and provision of HEPA (high-efficiency particulate air filters) and fresh air systems (or simply leaving windows open) can aid dispersion2. 

PureGym has high-grade air-conditioning systems including bringing fresh air from outside, which will significantly improve ventilation3.

References

1  2019 Novel Coronavirus (COVID-19) Pandemic: Built Environment Considerations To Reduce Transmission  Dietz L., Horve P.F. , et al mSystems (volume 5 issue 2 ) 4/7/2020  DOI: 10.1128/mSystems.00245-20 PMID: 32265315                                                       
Source: https://www.ncbi.nlm.nih.gov/...  EISSN: 2379-5077

2 Heater cooler units in hospitals, used in heart surgery for example, are known to harbour infective agents and can be a source of contamination by generating aerosols. (Infections Associated with Heater Cooler Units Used in Cardiopulmonary Bypass and ECMO  Information for healthcare providers in the UK  Version 2

A resource produced by Public Health England and partners)

3 A single air change is estimated to remove 63% of airborne contaminants, after 5 air changes less than 1% of airborne contamination is thought to remain.

In England and Northern Ireland, face coverings are encouraged, except when exercising.

This includes when entering the gym, in any communal areas, changing/locker rooms and when moving around the gym. 

In Scotland and Wales, face coverings must be worn in the gym except while you are exercising. This is to adhere to the government guidelines.

Please ensure that any used, disposable masks are disposed of safely in one of the bins provided, once finished and upon leaving the gym.

No. Gloves should be reserved for those undertaking certain tasks and are worn in hospital environments, those caring for the sick, by cleaning staff etc. Gloves can harbour a high viral load and contaminate surfaces. The individual may also transfer from glove to face in a higher dose and not touching the face and washing hands thoroughly is far more important.

Clothes are considered to be a low-risk source of infection from COVID-19 and washing at 60c + kills the virus. However, they can become contaminated so should be handled with care and as always wash hands thoroughly after touching. Do not hand wash clothes. Changing clothes immediately after reaching home is strongly advised.

First of all, stay home if you have any concerns whatsoever that you may have contracted, or been in touch with anyone infected with COVID-19.

When in the gym, following the simple guidelines: keep your distance, wash your hands, and clean down kit before and after use with the new self-cleaning stations provided. Also, try not to talk directly to people face to face, rather to one side of each other. Shouting propels droplets further. If coughing or sneezing, do so into the inside of your elbow to catch droplets.

Yes. In addition to extensive and frequent cleaning by PureGym teams, we've installed new self-cleaning stations so you can clean your kit before and after use, for added peace of mind. You can find out more about how to clean free weights and how to clean cardio equipment on our blog.

There is no evidence that COVID-19 can be spread to humans through the use of showers, pools, hot tubs, or spas. It is, therefore, safe to shower but distancing is once again paramount as toweling down, etc., can spread contaminants. Thus, the important factor is maintaining safe distancing. For the time being, we encourage members to arrive and leave in gym kit wherever possible.

Yes, to help prevent the spread of infection around the UK we will support the NHS Track & Trace system. If requested by the NHS to provide visitor information, due to an outbreak in the vicinity of one of our gyms, we will supply your name, mobile and time of arrival and departure for members who had recently visited the specific site. This is voluntary and you are able to request to have your data excluded.  Please email us at trackandtrace@puregym.com with you name and PIN number and we will not pass your details on.

We strongly encourage our teams to take advantage of the lateral flow tests made available to everyone in England by the Government and to self-isolate immediately if they test positive.  Alongside this we ask all employees to complete a health declaration at the start of each shift including taking their temperature.  

In addition, if we become aware of two or more confirmed cases amongst staff and PTs within a seven-day period within their gym, all staff and self-employed PTs will be tested.  This will ensure that we are identifying asymptomatic cases and minimising any risk of transmission within our gyms.
"I have been really impressed by the steps that the team at PureGym have taken. They've made keeping ourselves and others safe while in the gym simple. Members can take a lot of confidence that everything has been done to keep them safe and they will still be able to get a great workout."

Professor Greg Whyte OBE
Sports Scientist
STILL NEED HELP?
For more general enquiries, you can find helpful information from our Help Centre. 
Help Centre