Yoghurt and Fruit Parfait with Homemade Granola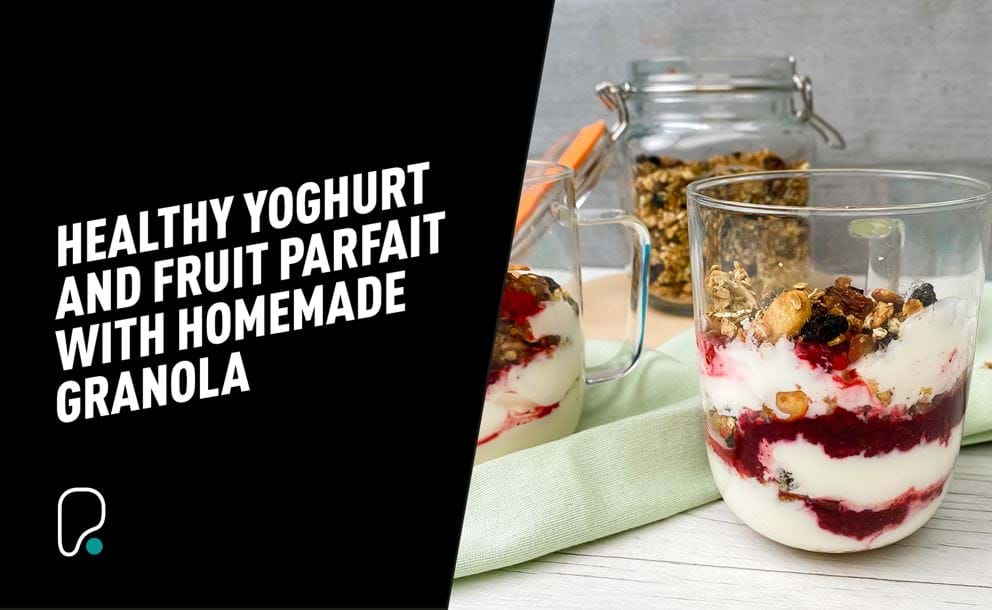 Try out our healthy and nutritious parfait! Only 252 kcals per portion, with 11g protein and 8g fat.
Forget the sugar-packed store-bought versions, switch it up for our simple Greek yoghurt parfait with raspberries and blackberries, paired with delicious homemade granola.
We've also made this recipe with budgets in mind. At only 86p per portion, it's only a fraction of the cost of your favourite supermarket or coffee shop pre-made parfaits – and healthier too!


Although classic parfait is a high calorie, high sugar, indulgent dessert, our healthier take on the French dish makes it an ideal nutritious breakfast or snack and can be meal prepped to help you stay on track.
We've kept our parfait simple - a layer of rich Greek yoghurt, a layer of fruit and then repeat. We then top it with our crunchy homemade granola to create the ultimate mouth-watering sweet treat.
Plus, it's easily customisable! Make your own parfait masterpiece and give your favourite fruit combos a go. Or throw in whatever fruit is leftover in the fridge to help reduce waste. It's a win, win!
Ingredients
Parfait (Serves 1)
125g 0% fat Greek Yoghurt
25g raspberries
25g blackberries
½ tbsp freshly squeezed orange juice
Pinch of cinnamon
Granola (10 servings)
200g oats
30g pumpkin seeds
30g sunflower seeds
30g flaked almond
60g mixed dried fruit
1 tbsp honey
½ tbsp coconut oil
60ml sugar free maple syrup
1 tsp vanilla extract
Method:
Preheat your oven to 150c.
Mix together coconut oil, maple syrup, vanilla and honey in a large mixing bowl.
Add in the dry granola ingredients - oats, seeds, almonds and dried fruit - to the wet ingredients and mix well.
Place into the oven for 20 - 25 minutes, giving it a shake halfway through baking.
Meanwhile, place your berries into a small saucepan with orange juice and cinnamon.
Bring the fruit to a simmer and gently mash the fruit down. Cook for a further 10 minutes until the fruit starts to thicken like a jam.
Once your granola is ready, layer yoghurt, granola and fruit and enjoy.
Top Tip #1: Once the granola has cooked, keep it an airtight container and store for up to a month for a quick and easy breakfast. This recipe makes 10 servings of granola!
Top Tip #2: You can also make a larger portion of the berry compote and store in an airtight container in the fridge for up to a week. You can also freeze smaller amounts, in ice cube trays for example, which will save for up to a month.