"It's great to be back in the gym knowing it brings out the best in me"- Will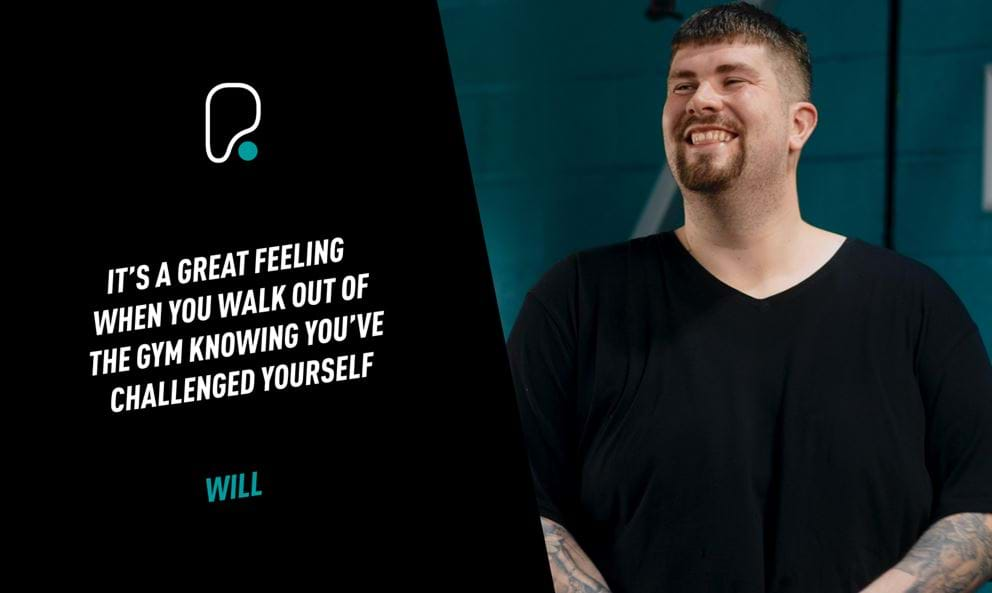 Hi, I'm Will and I'm a member at PureGym Grismby. My friends would describe me as funny, and that I just live for the moment! During my childhood I was really active. I ran and played football. As I grew older, I stopped playing sports and working out, and over time I became overweight. I decided I want to get back into exercising so I can take care of my health - not just for myself but for my daughter.
I used to love running around when I was a kid and it just seemed natural to join PureGym to get my fitness back.

Since joining PureGym, working out has become an important part of my day. I feel such a buzz when I've completed a workout. When I've finished any sort of exercise, I'm in a much more positive headspace. I just feel a mentally stronger person when I have exercise as part of my routine.
It's a great feeling when you walk out of the gym knowing you've challenged yourself.

I lost 10 stone. I was running a lot and training for half marathons. I was flying last year and then lockdown hit.
When gyms closed over lockdown, I must admit, I was really gutted. Going to the gym really helps me stay motivated and accountable to maintain other healthy habits besides exercising. I had all the good intentions to work on my fitness over lockdown but after a couple of days I tripped and ended up aggravating an old injury, which meant I had to rest and stop exercising for a while. My wife had also just opened a salon and didn't have a chance to open, so money was a bit tight.
I was working all hours to try and bridge the gap and I turned into a lazy eater. I've put on a good portion of the 10 stone I had lost.

Luckily the PureGym I go to has reopened. When I first heard that gyms could reopen in England, I was eagerly counting down the days till I could be back in the gym. I was so excited. Best way I could describe it, it was like the light at the end of the tunnel. I made sure to pack my gym bag and bring it to work and I was there on the first day! My biggest goal was not to hit the emergency stop when I was jogging and that's happened now. I am so motivated again. I've got a better mindset. 
It's great to be back in the gym doing what I feel brings out the best in me, and this has also helped me feel much better mentally too.

When I train, I set myself little goals to achieve. I do this because I like to see improvements along the way and setting realistic goals that I can achieve makes it much easier to stick to, which is important to see results. My long-term goal is to run a half marathon. I nearly achieved running the distance of a marathon before lockdown, so I'd really like to focus on this again and achieve it!
I'm proud of how far I've come, particularly in the last 18 months. My dream is to live longer and have a happy, fulfilling and healthy life.

Thinking back to the first time I stepped into the gym, I remember feeling slightly worried as I thought people might be judging me for my weight. Gyms are often thought of as an intimidating place, but the vibe in PureGym is friendly. I'd say there is nothing to worry about for new gym goers. The staff are always willing to help.  If I'm unsure of anything, I know that I can always ask them for help. The members are lovely too.
It might feel uncomfortable at first trying something new, like going to the gym, but going to PureGym has been a great decision for me.
It's clean and tidy, the staff are great, the variety of equipment available is fantastic, and the membership is really good value. I can escape from the world here and focus on being a fitter dad for my daughter.

The new TrainSafe measures which have been put in place are very reassuring. Staff are carrying out regularly cleaning, and there are plenty of cleaning stations around to clean kit yourself before and after use. The measures have been communicated very clearly so we know what to expect and do when we are in the gym. I feel safe being back in the gym and I'm happy with what PureGym has done for members so they can train safely. I think we all have a responsibility to maintain a clean gym environment so it's important we do our part too!

Heading back to the gym?
We're so happy to welcome you back to the gym! Be sure to check out our Back to the Gym guides for plenty of tips to help you return to the gym safely along with great workout ideas!
If you're looking for more support as you restart your own fitness journey, Personal Trainers at PureGym are here to help.