Weightlifting 101 from Laura Hoggins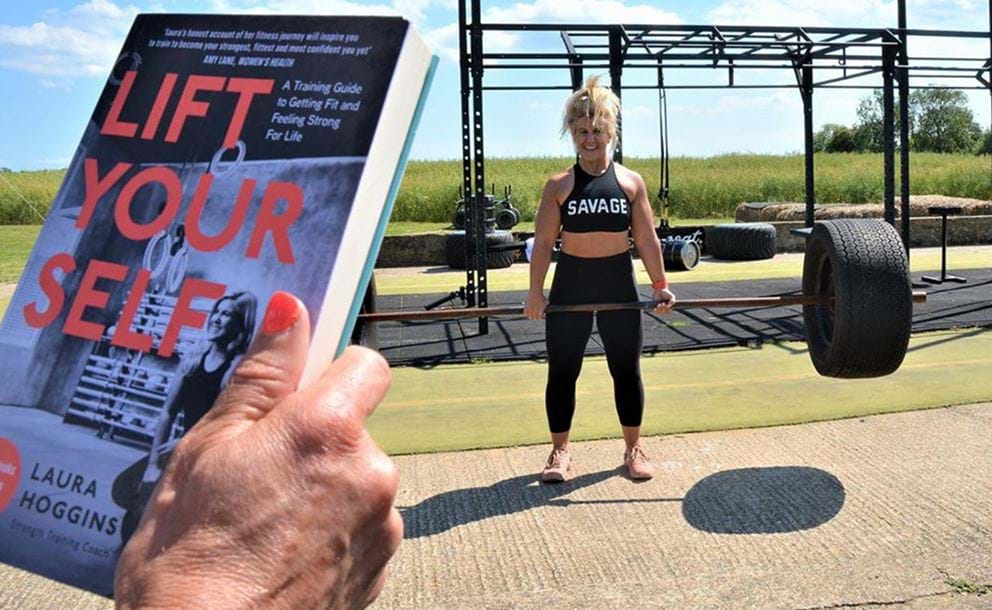 Laura Hoggins (@laurabiceps), personal trainer and author of LIFT YOURSELF: A training guide to getting fit and feeling strong for life, shares her key tips for beginners starting their weightlifting journey and some workouts ideas to help get you started.
Weightlifting has so many benefits, physically and mentally. It can help to change your body composition, improve your posture, give you definition, improve bone density, building strong foundations for a long and prosperous life! Not only can you experience physical change when aligned with the correct and individual nutritional plan but mentally, it can be really empowering to pick something up you didn't think you could, working for slow and small progress getting strong and fit for life!

I remember when I first started lifting. It was a little intimidating. I'd ask myself all sorts of questions like: Am I doing this correctly? Is that person judging me? Why can't I lift the same as everyone else? How fast should I be making progress? The great thing about lifting is there is always ways you can look to improve from your form, your range of motion, your technique, the weight, the tempo, your recovery and more.
KEY TIPS FOR BEGINNERS
1) Master good form
Focus first on mastering the basic movement patterns. From your squat, your hinge (deadlift or kettlebell swing) lunge, your upper body push & pull exercises (press-ups and rows), to your core stability (such as a plank hold). Once you feel comfortable and are moving well and safely, then look at increasing the intensity as individually appropriate so you continually make progress.
2) Be patient
Progress here takes time. It involves focusing on not just your training, but also your recovery and mobility. Take your time and respect the process. Try not to make comparison to anyone else!
3.) Don't compare
It can be true what they say that "Comparison is the thief of joy" (Theodore Roosevelt). I find this quote really resonates when it comes to lifting weights and resistance training! Whatever your goal is, everyone's journey to achieve their goal will likely be unique. Some days the weights feel good, other days your 70% might feel like your max! Try to avoid comparing yourself to your friends, other gym go-ers etc and instead try to be inspired by their success.
For more tips, check out my book LIFT YOURSELF, out 25th July on Amazon UK, in which I talk about my commandments to lifting, the success and challenges I have faced, empowering you to be your strongest you yet!
Lost for ideas? Try these workouts!
I have developed 3 lifting workouts for you, whatever your level:
BEGINNER (0-6 months)
Focusing on mastering the basics, still a challenging workout, but here you will work for time, not reps, so working to your best range within that time, with adequate rest before you take on the next movement. Quality over quantity always, take your time and really feel every single muscle working through each move, use your breath and aim for control through the movements.
40S WORK 20S REST
Aim for 3-4 rounds and give yourself 60s rest in between rounds
5 bodyweight moves:
AIR SQUAT
REVERSE LUNGE
INCHWORM TO PRESS-UP
PLANK ROW
CORE/OBLIQUE TWIST
INTERMEDIATE (6 - 12 months)
Once you have mastered the foundational movements, perhaps you are ready to add some resistance, things like DB's and KB's can be a very effective way to increase the intensity. Working with external load needs to be started slowly and progressively, ensuring that you are working within a good rep range for your goals, and ensuring those last couple of reps are challenging but not impossible.
10-12 REPS
Select a challenging weight
Aim for 4 rounds
Move through each exercise slowly and thoroughly and give yourself 60-90 seconds rest at the end of each round.
KETTLEBELL GOBLET SQUAT
DUMBBELL REVERSE LUNGE
DUMBBELL DEADLIFT
DUMBBELL OVERHEAD PRESS
RENEGADE ROW
KETTLEBELL SWING
ADVANCED (12 months plus)
Now if you're an experienced lifter, you can start to work with additional equipment and styles of lifting. The barbell is an excellent and versatile way to lift relatively heavier loads, squatting, deadlifting, lunging, pressing, and possibly adding some more dynamic Olympic lifts such as cleans, exceptional for developing power and strength.
6-8 REPS for the main compound lift
8-10 for the accessory lift
Work up to a challenging weight for each lift
Aim for 4 rounds
Complete 4 rounds of each section (A1, A2) first before you move on to your next lift (B1, B2).
A1. BARBELL DEADLIFT
A2. BARBELL REVERSE LUNGE
B1. BARBELL FRONT SQUAT
B2 DUMBBELL WINDMILL
C1. BARBELL OVERHEAD PUSH PRESS
C2. BARBELL BENT OVER ROW
LIFT YOURSELF by Laura Hoggins –now available to purchase in major book stores and on Amazon.
About Laura
Born and raised in Surrey, Laura Hoggins developed her passion for lifting after discovering a CrossFit box in Hammersmith over three years ago. Inspired by the community of individuals whose priority was athletics and not their aesthetic, Laura quit her office job and moved into fitness full time. Now a fully trained fitness coach and personal trainer, Laura runs her own concept class, LIFTED, at the Ministry of Sound Fitness. Laura has over 18,500 Instagram followers and has worked with British Women's Lifting, Women in Sport and This Girl Can to spread a campaign that she supports that 'strong is not a size'. Runner-up in Men's Health Gym Awards '18 for Smartest Coach and a regular contributor to Woman's Health, Metro and Health & Fitness Magazine, Laura speaks on podcasts, at festivals and events across the country and is the female face celebrating lifting in the UK. She recently launched her own podcast, Biceps & Banter.
@laurabiceps
https://www.lifted.fitness/