Vegan Mini Nut Roasts Recipe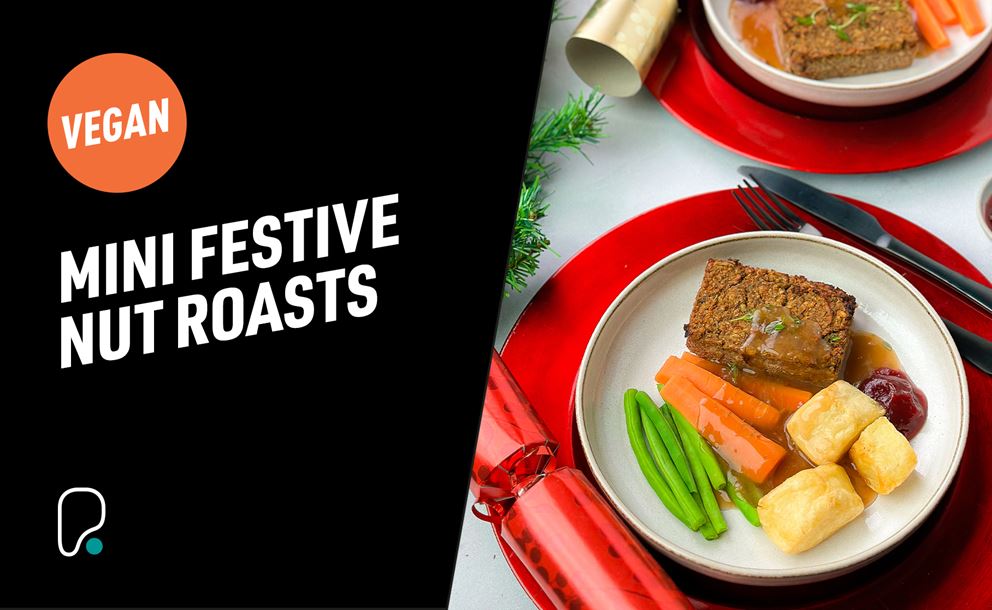 Looking for a recipe that will spice up your Christmas dinner? Whether you're cooking for vegans, vegetarians, or meat eaters, everyone will love our mini nut roast recipe. This makes 10 servings so there's plenty to go around.

We've used lentils and chickpeas to add some extra protein and fibre to this classic dish, plus it comes packed with veggies for minerals and nuts for protein, fats, and fibre, for an all-round nutritious dish that tastes incredible and goes great with gravy.

You'll need to set some time aside to make this recipe, but once it's done you can pop it in the freezer for up to 3 months to make your Christmas prep easier.
Serves: 10
Prep time: 30 mins         
Cook time: 45 mins
Ingredients:
2 tbsp milled flaxseed
1 onion, finely diced
1 celery stick, finely diced
2 carrots, peeled and finely diced
2 garlic cloves, crushed
350g mushrooms, finely diced
1 tbsp dried rosemary
2 tsp tomato puree
2 tsp dark soy sauce
50g cashew nuts
50g pecans
50g hazelnuts
400g tin green lentils, drained
400g tin chickpeas, drained
20g chia seeds
20g ground almonds
6 tsp vegan cranberry sauce
Low calorie oil spray
Freshly ground black pepper
Fresh thyme
Method:

Preheat the oven to 200c.

Start by making the flax-egg by mixing flax seed together with 4 tbsp water before leaving the mixture to thicken.

Heat a frying pan with a generous amount of low-calorie oil spray and fry off the onions, celery, and carrots until soft. Next add the garlic and sauté for 2 minutes.

Add the mushrooms, rosemary, tomato puree, soy sauce and a good grind of black pepper to the frying pan and fry off for 8-10 minutes until the mushrooms have started to soften. Leave to one side to cool.

Now add the cashews, pecans and hazelnuts to a food processor and pulse until they're roughly chopped. Then add the chickpeas, lentils and chia seeds and blitz again so that a thick paste mix forms.

Add this mixture to a large bowl and stir through 3 tsp of cranberry sauce, ground almonds, flax-egg and a good grind of black pepper.

Next, spray 6 silicone mini loaf moulds with low calorie oil spray and brush 3 tsp of cranberry sauce into the bottom of each mould.

Divide the mixture between each loaf tin, pushing as much mixture into the moulds as possible before smoothing the tops over.

Bake the mixture for 20-25 minutes then leave the mini nut roasts to rest in the moulds for 5 minutes.

Top the nut roasts with fresh thyme to serve, and enjoy!
Top tip: Freeze for up to 3 months before cooking to make your Christmas preparations a bit easier. Or if you've got some leftovers after cooking, pop them in the freezer for up to 3 months!
The winter weather brings with it cooler temperatures to make warming dinners appealing at this time of year. If you're in need of comfort food inspiration, check out our mini toad in the holes or our tender slow cooker beef stew!