'Strength training has given a purpose to my life and I feel very lucky to be able to do it.'- Val, 61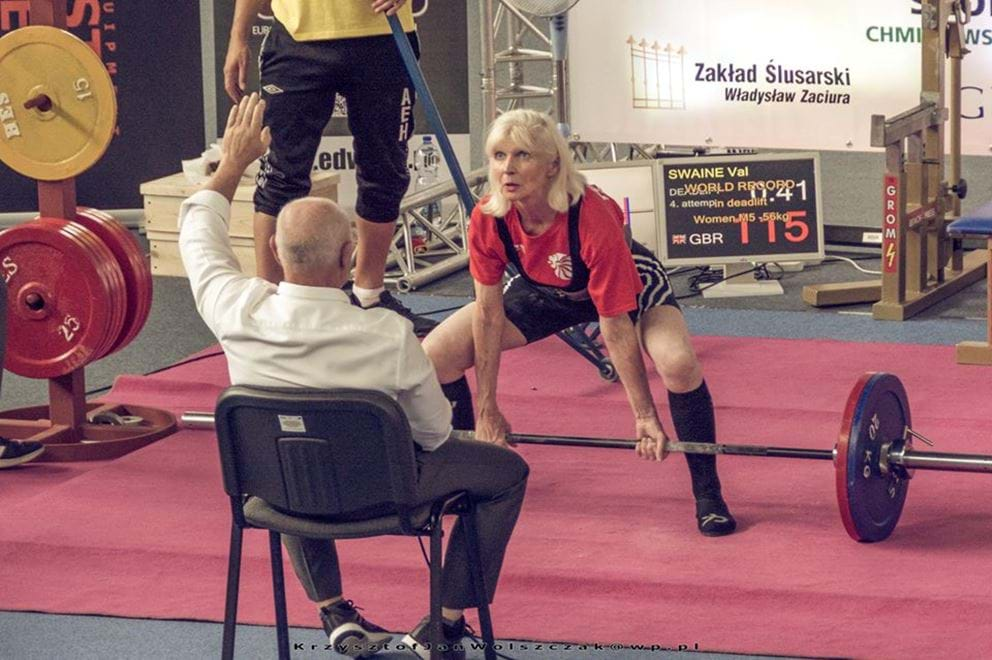 Meet Val, 61, member at PureGym Bradford Idle who currently holds the World Powerlifting record for her age and weight category. She had only set foot in the gym just two years ago but she has made some incredible achievements to be proud of, which shows that it's never too late to try and learn something new – you may even find you might enjoy it, and even better, become great at it!
Val's story
Hi, my name is Val Swaine. I'm 61 years old and I've been a member at PureGym since November 2014. I had no idea that when I first joined the gym, 2 years later I would hold World Powerlifting records for my age and weight with the Global Powerlifting Committee (GPC)! How did that happen? Prior to 2014 I hadn't set foot in a gym for many years and I had never attempted to lift more than my shopping! I will explain…

In 2009 I was living the 'good life' in France having moved there after taking early retirement from work. I had a lot of time to think about things and I noticed (being in my mid-fifties) that I was starting to age quite rapidly and my energy levels were dropping. There weren't many gyms around where I lived so I decided to take up jogging and also I gave up drinking wine, both very tough undertakings!
I followed a jogging programme taking me from running zero to 5 kilometres and I felt so proud of myself once I hit my goal of 5k. I loved the sense of achievement. I jogged around the narrow roads in rural France for a few years on my own, tracking my progress (speed and mileage) which was steady! However, because I was running on my own, I started to miss someone to help spur me on, guide me, provide team spirit and make it fun. By 2013 we had decided to return to the UK and I made the decision that I would join a gym to provide me with those things that I missed.
It was a coincidence that, no sooner had we got back to Bradford, a leaflet was posted through the door saying that PureGym was opening about a mile from where I lived, I had no excuse! As I mentioned earlier, I had not been in a gym for a long time, over 20 years, so I was very apprehensive. I booked an introductory tour of the gym online and off I went. As soon as I went through the door, I knew I was going to like it. It was a large open space with people in it, vibrant and friendly! I then booked a free class online, attended the class and I was hooked!
For the first 15 months, I attended about 4 to 6 fitness classes a week and enjoyed every class even though some of them were very challenging. The PureGym staff were really enthusiastic and we had fun as well.
There was a wide range of people in the classes of different abilities all trying hard to improve their fitness. I felt as though I became more committed to being healthy and more driven to change for the better.

I am quite lucky in that I've never had a problem with my weight so my goal in the gym wasn't to lose weight.
I wanted to age less quickly, improve my body shape and to have a bit of muscle definition as I had read that we lose muscle mass as we get older.
With this in mind, I thought I would try out a few of the weight machines in the gym. I also like to be able to measure my progress so I thought I would know if I was lifting more weight over time, it was measurable.
I quickly realised that, even though the machines were self-explanatory and staff were helpful, I didn't really know what I was doing.
Was I using the right technique? What if it led to injury (something I wanted to avoid if possible)? I really wanted to be able to use the free weights too but I didn't dare venture there, I didn't have a clue how to begin.
I booked a PT session with one of the PT's, Mike Oczujda. I had taken a few of his classes and he seemed really keen on technique so, after reading his profile on the PureGym website, I went along to see him. For the first few weeks, Mike devised a programme for me to follow in order to condition my body and prepare it to lift weights.
He was able to determine my weak points of which there were quite a few! My general mobility had started to deteriorate, my ankles and hamstrings were weak, things I didn't even realise.
Mike also gave me advice on my diet which needed improving even though I didn't need to lose weight.
As well as one-to-one training with Mike and training on my own following a programme, I also went to a kettlebell class once a week.
After about 3 months training with Mike, he suggested I enter a competition and because I was surprised he thought I was good enough, I agreed before knowing what I would be doing! I thought he'd gone a bit mad when he said Powerlifting, I didn't know anything about it but I was about to find out very quickly!
I competed in my first powerlifting competition at the GPC Nodumbelles women only powerlfiting competition in July 2016, about 4 months after starting my training with Mike.
Powerlifting involves 3 lifts ie. squat, bench press and deadlift, with as much weight as possible. The total weight is added up for the 3 lifts and recorded as is each single weight lift. My total lift weight from that competition was 177.5kg. Mike and I realised that I had qualified to enter the British GPC championships which were to be held in November 2016 (qualifying total required was 175kg) for my age and weight group!

We trained hard from mid-July until early November 2016 working on all 3 lifts. At the GPC British championships I improved my lift total to 187.5 kg which was a British record for my age and weight. I also got the British record for the deadlift of 100kg, this is my strongest of the 3 lifts.
Not content with this, Mike and I set our sights on qualifying for the European and World GPC championships but I needed a qualifying total of 195kg. I achieved this at a competition in Bristol in May this year. I broke all GPC British records for my age and weight for squat, bench press, deadlift and total! My total was 210kg so we were on our way to the European GPC Championships in Poland (May 2017)!

In just less than a year from my first competition, I competed in my 4th event in June this year in Poland. I achieved European and World records for all my lifts and total with a final total of 212.5kg.
My progress in weight training is visible as I can see an increase in my strength as I lift heavier weights. I can also see changes to my body. I am leaner with about 15% body fat (down from 25%) and I have more muscle but this is a very slow process, it certainly hasn't happened overnight. I notice each muscle in everyday activities as I can now feel the muscles working. I no longer take mobility and posture for granted, these are things I work on to maintain and improve as I age.
Although I enjoy strength training and competing, it is really hard work. It has given a purpose to my life and I feel very lucky to be able to do it.
Sometimes however, it's difficult to keep the motivation going. Mike set up a team of women who train together once a week doing powerlifting, we have trained together for about a year now. We help each other, praise each other and keep the fun element to the class which is important! It has to be enjoyable as well as tough and being part of a team helps with that.

There have been occasions when I've had to spend time away from the gym. It then becomes really difficult to return.
I've always found that the most difficult part is getting to the door. Once in the gym, the focus snaps in to place and everything else is forgotten, I try not to overthink it, just go into the gym!
Although I haven't been going to the gym for very long, I feel as though I've been on the steep part of the learning curve. Tips I've found that work for me are:
Try set realistic goals every month or so. Feel proud of yourself every time you reach your goal
Learn the correct technique to avoid injury
Try and exercise consistently rather than in fits and starts
Enjoy it, make it fun either but joining a class or training with a friend.
Since joining PureGym and being in the gym regularly I am constantly amazed by the number of people I see who are trying to improve themselves.
There is a cross section of people of all ages and abilities just there to give it a go, and that's my advice to get started, just give it a go!
During those long solitary hours I spent jogging up and down the French countryside, I couldn't have imagined what was in store for me on the road to fitness as I aged. I feel very lucky to have found Mike who I trust as a coach, a gym I feel at home in and a sport I love, anything else is a bonus! Back to training now for another competition to work towards!
We think you're incredible Val! The achievements you've made are very impressive. Thanks for sharing your strength journey with us, and we wish you all the best in your future powerlifitng competitions.
Follow our Instagram for more amazing member transformation pictures to get you inspired to go to the gym and check out more member stories here.
If you're interested in getting featured, please email: content@puregym.com with the subject line: Member story feature and share us your story.