The Sound of Strength: Can Music Help You Lift More?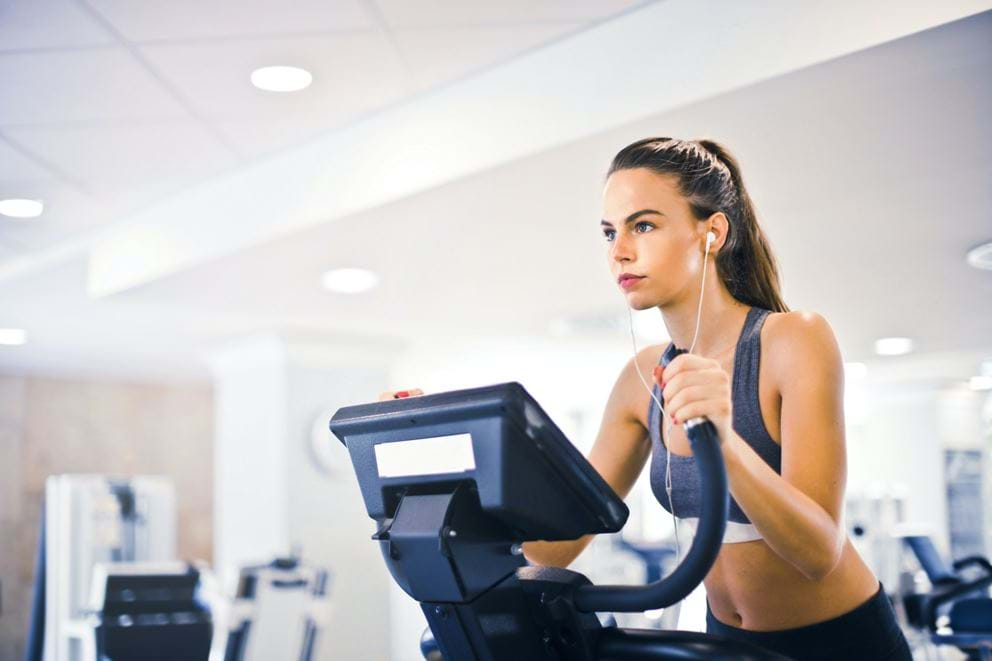 The gym is a different place for everyone; while some go to decompress after a stressful day at work, some enjoy the social aspect and others might have a specific goal they want to achieve. However, we all share one common goal: to feel good at the end of our workout! One of the best ways to consistently feel satisfied with your gym visits is to see yourself making progress, no matter what that looks like for you, and a simple way to do this is to benchmark yours by tracking your results.
From guzzling pre-workout, to staying hydrated and even buying new kit - there's a multitude of things we can do to acutely improve our performance during a gym session, and one thing we wanted to investigate was the impact that music had. Whether it's the most recent top 40 track, a new banger from Kanye or even an Olivia Rodrigo ballad - music has an innate ability to distract us from fatigue, promote endurance, and even reduce perceived effort, allowing us to push ourselves further than we can in silence. Music has also been found to stimulate the motor cortex, the part of our brains that control our movements, so by working out to our favourite tunes, we can actually aid our bodies in executing movements - such as squatting or deadlifting.
To discover just how much music can influence our workouts, we conducted a study that tasked gym goers with completing the three main lifts (bench press, deadlift, and squat) in silence, as well as to popular artists from a variety of genres, and tracking their performance so we can see how different musicians can help gym goers lift heavier weights, or more reps.
Our results reveal that just adding music in general can improve your weightlifting performance by a significant 13%, but there are some musicians that help more than others. If you don't feel like sifting through artists every workout, don't worry – we've created a Spotify playlist that will help you lift more based off our findings.
Do It Like Dua… Listening to Dua Lipa Can Help You Lift 38% More Weight
Our previous research showed that Don't Start Now, the hit track by Dua Lipa, is the most popular home workout song, appearing in 12% of home workout playlists on Spotify - and she now also takes the crown as the artist that will have the biggest impact on your weightlifting workouts. The participants who worked out to Dua recorded on average a huge 37.93% increase in the amount of weight lifted versus when they lifted to no music.
Originally hailing from London, Lipa has been named as the best new artist at the Grammy Awards and won the BRIT Award for Best Female Solo Artist along with countless others, and now throwing a few of her songs on your workout playlist can help you hit a new PB!

Following just behind Dua Lipa was Harry Styles, the current king of pop who left boyband One Direction and has since gone on to have an incredibly successful solo career, consisting of two brilliant albums, movie appearances and even the first ever male appearance on Vogue's front cover. Styles was revealed to help us lift, on average, 35.71% heavier. For example, if you're squatting 60kg currently, this could equate to a massive 21 kg increase in weight lifting capacity.
South Korean troupe BTS closed the top three, helping gym-goers to lift 22.47% heavier compared to their control. BTS changed the face of K-pop and have one of the most committed fan bases in the world, even gaining a few Guinness World Records for the likes of the most viewed online music video within 24 hours.
The top five also included American singer/rapper Lizzo, and rapper Eminem - both artists bringing us the potential to lift 13.58% and 12.68% heavier, respectively. 
The Top 10 Artists That Can Help You Lift More Weight
| | | | |
| --- | --- | --- | --- |
|   | Artist | Total Weight Lifted (% Increase) | Example Weight Lift Increase* |
| 1 | Dua Lipa | 37.93% | 23kg |
| 2 | Harry Styles | 35.71% | 21kg |
| 3 | BTS | 22.47% | 13kg |
| 4 | Lizzo | 13.58% | 8kg |
| 5 | Eminem | 12.68% | 7.5kg |
| 6 | Drake | 10.61% | 6kg |
| 7 | Olivia Rodrigo | 10.27% | 6kg |
| 8 | Beyonce | 9.93% | 6kg |
| 9 | Doja Cat | 9.44% | 5.5kg |
| 10 | Metallica | 8.33% | 5kg |
*Based on 60kg control weight

You're So Golden - Working Out to Harry Styles Will Help You Complete More Reps
While lifting heavier weights is quite rightly a valid goal in the gym, it can be difficult to continually increase weights each week. Another way to progressively overload the muscles (which is key to building size and strength) is to increase your reps. With that in mind, we also monitored performance when it came to the increase (or decrease) in rep amount when listening to various artists.
If you've ever seen the legend that is Harry Styles, ex-boyband, now global superstar, running around the stage at one of his concerts, you'll understand why working out to his music might help pique your motivation. Our research reveals that listening to Mr Styles while you train can actually make you complete, on average, 23.03% more reps per set.
Dua Lipa comes in as not only the artist that can help you lift more weight, but as the second most likely to help you complete more reps too - making a Dua Lipa studded playlist your best bet for a quality gym session. A quick listen to the likes of global hit Levitating, or her new track with Elton John and PNAU, Cold Heart, will help you complete 22.03% more reps at the gym.
Completing the top three is Olivia Rodrigo, the international sensation that stole hearts all over the world in 2021 with her debut single, "Drivers License". She broke the Spotify record for most streams in one week and our results show that listening to one of her pop ballads will help you to complete 6.07% more reps per workout; if you don't believe us, just listen to good 4 u next time you hit the gym.
Also featuring in the top five artists that'll get you hitting those reps with a vengeance is the Weeknd and Drake, who comes in fifth - beating once-rival rapper Kanye by 2% on average.
The Top 5 Artists That Can Help You Complete More Reps
| | | |
| --- | --- | --- |
|   | Artist | Total Reps (% Increase) |
| 1 | Harry Styles | 23.03% |
| 2 | Dua Lipa | 22.03% |
| 3 | Olivia Rodrigo | 6.07% |
| 4 | The Weeknd | 3.88% |
| 5 | Drake | 3.38% |
Download the PureGym Playlist Here
Next time you pack your bag for the gym, don't forget your headphones and make sure to download our expertly curated playlist that has been proven to help you lift more and lift heavier. Whether you're deadlifting to Taylor Swift or bench pressing to Doja Cat, zone out to the tunes and hit that PB!
Any progress is progress, and the most important thing is leaving the gym happier than when you entered. If you're looking to improve your results however, or wishing to hit a new PB - hopefully this has inspired you to switch up your playlist next time you hit the weights section! Find your nearest gym in addition to free workout ideas and advice on our app.
Methodology
 The results were compiled by recording the maximum weight lifted, and the maximum reps completed for multiple sets in separate workouts across bench press, deadlift and squat. Participants completed one control workout with no music, and % increase or decrease was calculated by comparing this result against the performance when listening to one of the artists reviewed in the study. Artists were chosen from analysis of which appear most regularly in Spotify 'workout' and 'gym' focused playlists.
We then ranked the artists from highest to lowest, to reveal which artists have the biggest impact on how much weight you can lift, and how many reps you can complete.