The Best HIIT Workout for Muscle Building
Have you ever found yourself wishing for a way to build muscle, get stronger, and boost your cardiovascular fitness, all in one workout? You might be in luck.
While HIIT (High-Intensity Interval Training) workouts are often associated with fat loss and cardio, they can also be a secret weapon for muscle growth too. Read on to discover how HIIT can help you pack on muscle mass while also boosting your cardiovascular health. 
Can You Build Muscle With HIIT Workouts?
HIIT is well known for its excellent cardiovascular benefits and is a popular workout style for those looking to improve their fitness and burn fat – you can read more about the benefits of HIIT here.
However, HIIT is often overlooked when it comes to building muscle. Traditional strength training with progressive overload is still the most effective approach for muscle hypertrophy, but HIIT can contribute to a muscle-gaining programme thanks to the following benefits:

Metabolic stress. HIIT workouts create metabolic stress on the muscles. This stress can stimulate the release of anabolic hormones including those responsible for growth, helping to support muscle gain and repair.

Fast-twitch muscle fibre activation. HIIT workouts often involve explosive movements, like plyometric exercises, that recruit fast-twitch muscle fibres. In addition to improving speed and power, fast-twitch muscle fibres have a higher potential for muscle growth than slow-twitch fibres.

Increased calorie burn. HIIT workouts typically burn a significant amount of calories during and after the session thanks to the high intensity nature and metabolic demands. This can be helpful both for those who want to lose fat to enhance their muscle definition, or those who want to maintain their weight while building muscle, as it creates a calorie deficit which allows for more food and nutrients to be eaten, which can fuel muscle growth.
Combining HIIT & Resistance Training For Muscle Growth
While HIIT can be beneficial for building muscle, resistance training is the most effective style of training when it comes to muscle gain. Combining both into your training is a great way to build muscle while also improving strength, endurance, power, speed, and cardiovascular fitness.
If you're looking for advice on weight training to build muscle, PureGym PT Spencer Cartwright has created a free workout plan for gaining muscle here.
The Best HIIT Workout For Gaining Muscle
This full body HIIT workout combines explosive exercises and compound movements, engaging multiple muscle groups for an effective workout that will keep your heart rate high, stimulate muscle growth, improve strength and power, and increase metabolic demand, in just 30 minutes (plus a warmup and cool down).
To get the most out of this workout, make sure you are putting maximum effort into the working intervals and resting fully in the rest intervals.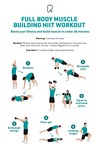 Warm up: 5-10 minutes
Warming up prepares the body for a workout by warming up the muscles and increasing the heart rate. You can warm up with 5-10 minutes of light cardio, or with 5 minutes of cardio followed by 5-10 minutes of dynamic exercises. Learn more about how to warm up here. 
Main workout: 21-27 minutes
Perform each exercise for 45 seconds, followed by a 15 second rest. Once you have completed a full circuit, rest for 1 minute before repeating for 3-4 rounds.

If you'd like even more inspiration for how to gain muscle mass and strength, you can check out our How to Build Muscle hub - there are plenty of tips, advice and workouts to try there, including this useful Weight Training for Beginners guide. We also provide more HIIT inspiration for men and women over on our HIIT hub, including this upper body HIIT workout. 
Getting started couldn't be easier than with a PureGym membership - we offer a range of locations all across the UK with top-of-the-range fitness equipment to help you on your muscle-gaining journey. You can even book an appointment with one of our expert personal trainers - they'll be able to give you all the advice and guidance you need to get strong.