Thai Red Chicken Curry Recipe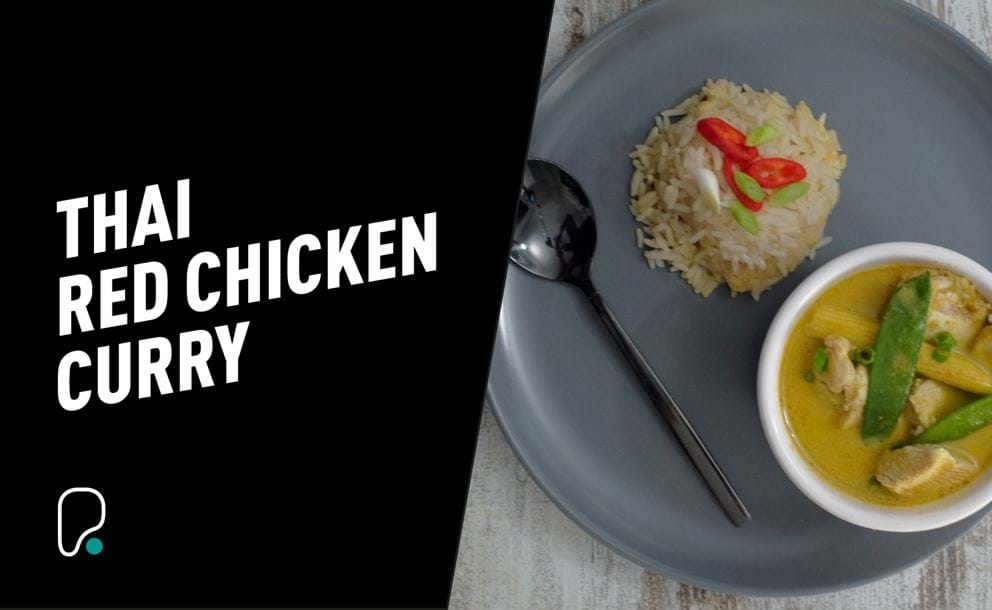 Fancy making your own restaurant standard Thai Red Chicken Curry at home? Give this mouth-watering recipe a try! It's packed with 46g of protein and only 465 kcal per serving, plus it's quick, easy and tastes amazing.
Ingredients:
Serves 4
500g chicken breast, diced
400ml light coconut milk
2 bags microwavable jasmine / Thai rice
1 Tbsp Thai Red Curry Paste (see below)
1/2 tbsp coconut oil
Handful baby corn
Handful mange tout
1 spring onion
Handful of coriander
Thai red curry paste
2 red chillies
2 tsp coriander seeds
1 tsp cumin seeds
3 garlic cloves
A big handful of coriander (stalks removed)
3cm cube ginger
2 shallots
3 garlic cloves
Grated zest and juice of a lime
1 tbsp hot paprika
1/2 tbsp coconut oil
Method:
Start by making your Thai red curry paste. Blend together all of the ingredients until they form a vibrant red paste, this will smell amazing! You can store this paste for up to two months if you have any leftover.
Next, heat a large deep pan with ½ tbsp coconut oil and add in your diced chicken breast, stir until browned.
Add 1tbsp of your paste into the pan and keep stirring to let all the fragrances cook out.
Then add your coconut milk and bring to a simmer for 8 - 10 minutes.
Drop in your veggies and let them cook for a further 3 - 5 minutes. You want them to be cooked through but still vibrant in colour.
Serve with your rice of choice and top with some sliced spring onions and fresh coriander!
To try more of our healthy, high protein recipes click here.