Shirley's Story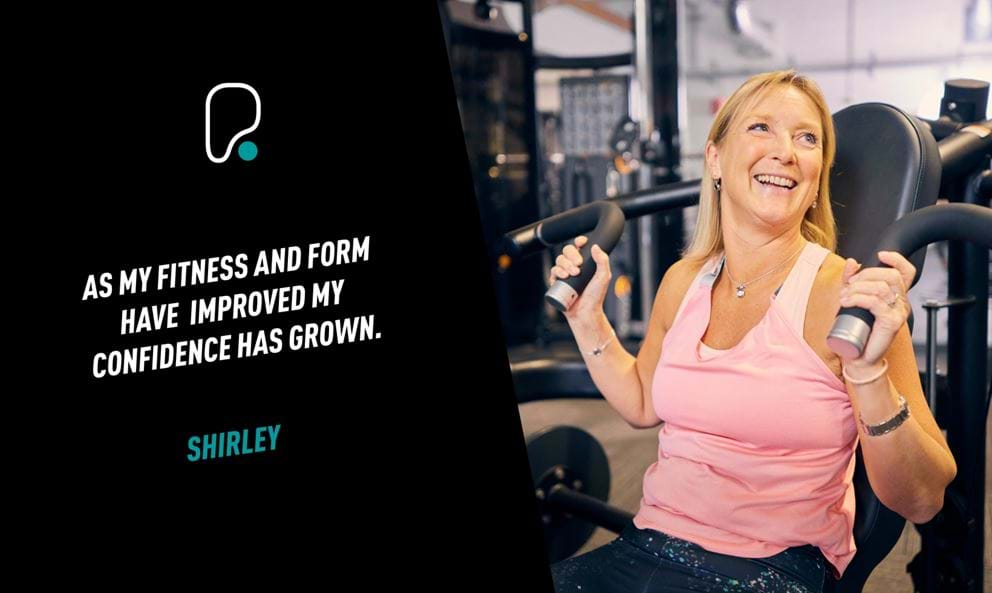 After going through menopause and becoming less active meant Shirley gained weight, she joined the gym with her daughter. Now, she does classes most days and has started training with free weights. Not only has she lost the weight she set out to, but her fitness and confidence have improved too. Read her story below.
Hi I'm Shirley. 
For as long as I can remember I have jogged. In my twenties I got into aerobics (I'm 56 now and remember the heady Jane Fonda/ Olivia Newton John 'Let's get physical' days!!!). After attending classes for a couple of years I qualified as an aerobics teacher, and I ran classes for about 10 years. In my thirties I had two children (and gave up aerobics – there weren't enough hours in the day).  I continued to jog and in my forties I ran 6 marathons (London x 3, Dublin x 2 and New York x 1). In my fifties I scaled back to a daily jog with the dog. Menopause hit, weight went on and I lost my mojo! I knew that I had to either accept my middle age spread or do something about it… 

Cara, my (now) 20-year-old daughter is a keen netball player and had just started doing weight training and going to PureGym. 
Cara says, "During lockdown I decided to take up strength training to build muscle and tone up. Compound lifts became an essential part of my gym routine and I have been training 6 days a week on top of netball ever since. I'm hooked!" 
Cara is at Uni and upgraded her membership so that she could go to the PureGym in Barnstaple when she is home and in Bristol when she is at uni.  This gave her four guest places each month and she encouraged me to go with her.  I have never really been a gym girl and felt too unfit to go with her, but she said she thought that I would enjoy the classes.  

I tentatively joined Cara and whilst I was pretty useless (especially compared to my thirty-year-old self) I really enjoyed it.  The instructors gave advice and encouragement but there was no 'naming and shaming' or feeling that I would be called out for not doing anything 100% correctly. 
I soon realised that whilst jogging is great, my strength and flexibility needed some time and attention too. 
I admit to being a little apprehensive about going into what I thought might be a 'man cave' but PureGym is not that. It is open, airy, clean (not sweaty – nice showers, toilets and changing facilities). Cara said about her first visit "If I had not gone into the weights section on my first visit it would have been easy to revert to what I knew and stick to cardio.". 
I soon used up the four guest spots and joined up too (in about June I think). Cara and I went together until she went back to university in September.  It was such a lovely thing for us to be able to enjoy together.  
Even though Cara headed off there was never any question that I would stop going. I was hooked. I love the classes, the sense of achievement after a workout and the positive effect on my fitness and physique. 
I will never be as fit as Cara, but I feel I can hold my own.  My legs are pretty strong (from all the jogging), but my upper body is weaker.  I used to be able to do lots of full press up and when I came back I could not do any. Now I can, during circuits I start with full press up (x10) then revert to doing them from my knees.  So, I usually manage at least 30 full press ups in total – a definite improvement in a relatively short space of time. I have also been able to turn my attention to my abs for the first time in 18 years (my son was delivered by C -Section and my tummy is a problem area) and I have seen a vast improvement (dresses look ok again!).  As my fitness and form have improved my confidence has grown. I don't feel fat, unfit and 50 anymore – I have my mojo back! 

Cara says, "Once my music is on I can just into my own zone, knowing everyone in the gym is there to improve themselves and like myself – they are most likely too focused on what they are doing to be watching me. I always come out of the gym feeling motivated and empowered which highlights the uplifting nature in PureGym." 
I go to classes most days and love Legs, Bums and Tums, Circuits and Body Tone.  Circuits generally includes a bit of cardio, but daily jogs cover this for me. 
I have only recently gained the confidence to venture into the functional area (having been lured by 'Sweat 30' classes), but I plan to do more … 
No matter what kind of day I have had exercise elevates my mood. It allows me to switch off from the daily grind and is a great stress reliever.  PureGym has also been a source of new acquaintances and friends and the social aspect has also been positive. 
Cara said she agrees, and 'without the gym I don't know where I would be today. It's a daily source of serotonin and the personal gains and progress I have made spur me on to keep fitness levels consistent." 
To anyone nervous about joining the gym I'd say, don't be put off. No matter what your fitness level is do not be too hard on yourself and take it easy and just give it a go.  I was in a circuit class this week with a couple of new members who did well but clearly found it challenging, and I said to them that it was the worst it will ever be – it can only get better.  Once you break the ice each visit gets less intimidating and as you start to improve your confidence and enjoyment grow. 
It's never too late to improve your health and fitness. Check out our Starting Out In The Gym Guides for plenty of tips and workout ideas tailored for beginners to help you get started on your fitness. We have 300 gyms nationwide - find your nearest gym and get started today!