Healthy lunches that can be made in under 10 minutes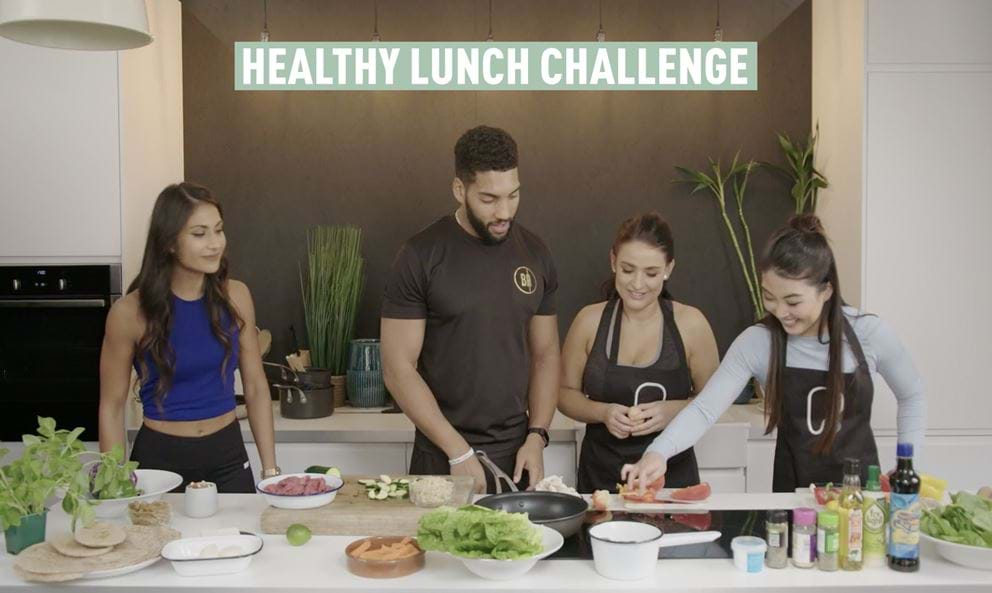 Eating healthy on the go has become easier with cafes, restaurants and shops providing healthier alternatives but it can get quite costly if you do this most days of the week. I know the last thing you probably want to do after a long hard day is to find healthy recipes and spend lots of time making it, so we got @nuttyfoodiefitness to give our PureGym Insiders @emilypuregym and @kaypuregym and fit foodie @macro_joe  a fun challenge to make a healthy meal in under 10 minutes! 
How did they get along? Watch in the video below!
Who do you think made the most appetising meal? If you want to try making any of the recipes, check them out below.
@emilypuregym's Egg fried rice

Ingredients:
Microwave rice

Egg

Diced beef

Courgette

Mushrooms

Soy sauce
Instructions:
Cook beef on medium heat until brown
Place rice in microwave for allotted time whilst cooking the mince
Add egg to pan and scramble
Cook through mushrooms and courgette
Add to rice top with soy sauce
@macro_joe's Chicken fajitas

Ingredients:
2 Chicken Breast

Mixed peppers

1 Tbsp Paprika

2 Cloves Garlic

2 Tbsp Salsa

1 Red Onion

Salt

Pepper
Instructions:
Chop the chicken into chunks and begin frying over a medium heat adding in spices and salsa.

Cut peppers into slices and add to pan once chicken is cooked.

Check the meat is cooked through and the peppers are at your preferred texture and serve for a healthy, low carb meal, or add some whole wheat tortillas for a great complex carb source.
@kaypuregym's Wholemeal tuna wrap

Ingredients:
Wholemeal wrap

Can of tuna in spring water

Half a lemon

Pepper

Mixed herbs

3 Romaine lettuce leaves

Half a red pepper

Carrots
Instructions:
Drain spring water from tuna and put the tuna into a bowl

Break tuna into smaller pieces using a fork

Squeeze half a lemon into the tuna mixture and sprinkle some pepper and mixed herbs

Wash romaine lettuce leaves and cut them into smaller pieces

Wash peppers and carrots into strips.

Lay romaine lettuce leaves onto a wholemeal wrap and add the rest of the veggies on top. Then spoon the tuna mixture onto the bed of veggies and fold into a wrap.