Mini Chicken Satay Skewers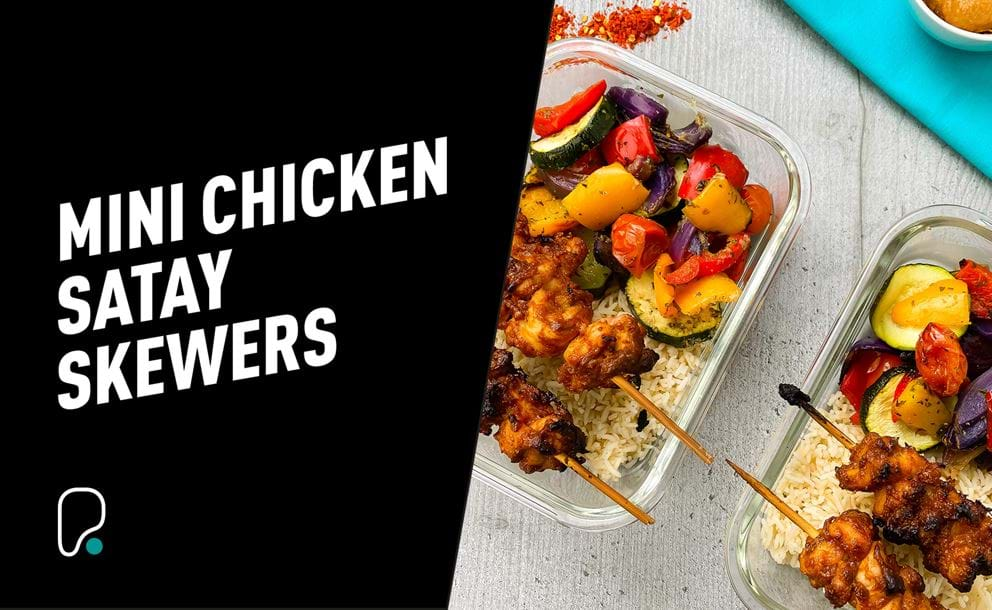 As the weather heats up, skewers are back on the menu. These chicken satay skewers remind us of summer and are packed full of creamy and rich peanut flavour – a real treat for your tastebuds.
The best bit? At only 532 kcals with 35g protein they are ideal for a balanced meal prep option or a delicious dinner.
If you're looking for a lighter version, try these simple swaps to cut down some calories:
Switch the chicken thighs for chicken breast to cut down on fat
Serve with less rice to cut down on carbs

Ingredients:
200g skinless and boneless chicken thighs, diced
1 tbsp olive oil
½ tbsp curry powder
1 garlic clove, crushed
1 tsp ginger, crushed
½ lime, juiced and zested
1 tsp honey
½ tbsp soy sauce
1 tbsp smooth peanut butter
1 red onion, sliced
1 courgette, sliced
1 red pepper, sliced
1 yellow pepper, sliced
8 cherry tomatoes, halved
½ tsp dried basil
½ tsp dried parsley
½ tsp dried oregano
1 tsp garlic powder
Salt and pepper (to taste)
Low calorie oil spray
250g cooked basmati rice
Wooden skewers
Method:
Mix together olive oil, garlic, ginger, curry powder, lime juice, honey, soy sauce and peanut butter to make the satay marinade. If you have a blender, you could add everything in for quickness, but equally a bowl and a spoon does the job too!
Add chicken to the marinade and mix well so all the chicken is covered, then leave to marinade for 30 minutes, or overnight if possible.
Preheat your oven to 200c and then start by soaking your skewers in water to stop them from burning in the oven.
Next, pop your red onion, courgette, peppers and tomatoes onto a baking tray, sprinkle over garlic, oregano, parsley and basil and then add low calorie oil spray and a pinch of salt and pepper.
Put the veg into the oven for 35 - 40 minutes until roasted and juicy.
While the veg is cooking, skewer your chicken onto your soaked wooden skewers and place onto a tray. Grill these under a medium to high heat for 10 minutes turning occasionally.
Box up the chicken, rice and veggies and store in the fridge for 2-3 days for an easy food prep.
For more meal prep ideas check out our blog recipe section - packed full of healthy, nutritious and flavoursome food to help fuel your body and mind.