Share the weight this Mental Health Awareness Week 2019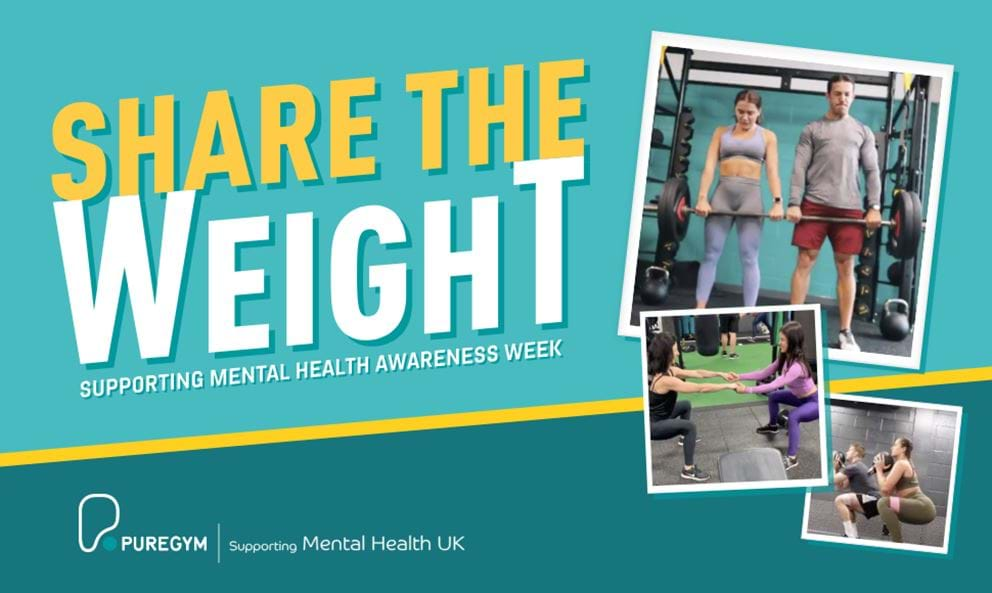 This year Mental Health Awareness Week is taking place from 13th to 19th May and at PureGym we think it's important for everyone to look after not only their physical health, but also their mental health.
Current stats show 1 in 4 people in the UK are affected by mental health problems every year, 1 in 6 people will be diagnosed with depression at some point in their lives, ranging from mild to severe, and 1 in 10 people in the UK are likely to be experiencing an anxiety disorder (Mental Health UK). To give your mind and body a little treat and to help share the weight we will be putting on additional wellbeing activities and classes over Mental Health Awareness Week at selected gyms nationwide (just ask your local gym manager for more info).
It's a great time for everybody to show their support and #ShareTheWeight by having a chat with a friend, family member, or a colleague and putting some extra thought into everybody's wellbeing.
To raise awareness around mental health, we're also inviting our members to show how we can #ShareTheWeight in the gym. Watch the video below or see more on our Facebook and Instagram channels and get involved by tagging #ShareTheWeight.
Our PureGym Insider @joshpuregym and @sky.elizabeth.pt have created some examples of how you can #ShareTheWeight. Grab a friend and get creative with your own ways to #ShareTheWeight or try these workouts:
Wall sit passing weighted plate: Perform a wall sit, making sure your knees are bent at a 90 degree angle. Brace your abs and pass a weight plate to your friend. Complete 10 reps.
Wheelbarrow press-ups: Get your friend to perform a high plank. Carefully hold their legs by grabbing their ankles. As they perform a press up, perform a squat at the same time. Complete 10 reps.
Lunges with corebags: Grab a corebag each. Stand side by side and perform forward lunges. Complete 10 reps on each leg.
Barbell deadlift: Set up a barbell with a suitable weight and stand side by side, facing the barbell. Bend your knees to lower yourselves into starting position and place your hands around the barbell. Keeping your back straight, extend your legs and drive your hips forward to lift the barbell off the ground. Perform a few reps - this one is just for fun so we wouldn't advise going heavy with this and to find a friend around the same height as you.
Acroyoga: Try some moves to test your flexibility whilst having fun. Stand facing each other and grab one leg as if performing a quad stretch. Grab your friend's opposite arm and sink into the stretch.
Tips and ideas to help you manage stress and your mental health and wellbeing
GET ACTIVE
Did you know people who do regular physical activity have up to a 30% lower risk of depression? Exercise is proven to have a hugely positive impact on the quality of life of people severely affected by mental illness including:
Improved mood
Reducing symptoms of stress
Reduced anger
Alleviating anxiety
Slowing cognitive decline
Physical activity provides all-important social interaction, meaningful use of time and empowerment for those with mental illnesses, who are often more vulnerable. Whether it's going for a walk, being more active throughout the day, or going to gym, spending more time on your feet can be a great way to boost those feel-good endorphins!
MAKE TIME TO RELAX
Taking a bath, meditating and practicing deep breathing techniques can be helpful in relaxing the mind from worries or anxiety. We often forget to carry out activities which help us to relax so try to spend some time, even for just half an hour or so, to enjoy some 'me-time'. If you're struggling for time, try to practice mindfulness throughout the day by noticing your breathe and checking in with how you're feeling.
Try this simple slow breathing technique to reset your nervous system:
Breathe in with your belly on 4 counts and breathe out with your belly in 6 counts. Repeat 9 times.
For more practical wellbeing tips check out our Wellbeing programme.
If you or someone you know needs support for their mental health please contact your GP.

We've also partnered with Mental Health UK to take on a 7-day relay challenge in June and come together to raise money for the charity, highlighting the link between mental health and physical health. Our aim is to reach an incredible target of £250,000. Find out more and how you can help donate here.