Member success story: Andrew shares his 13 stone weight loss transformation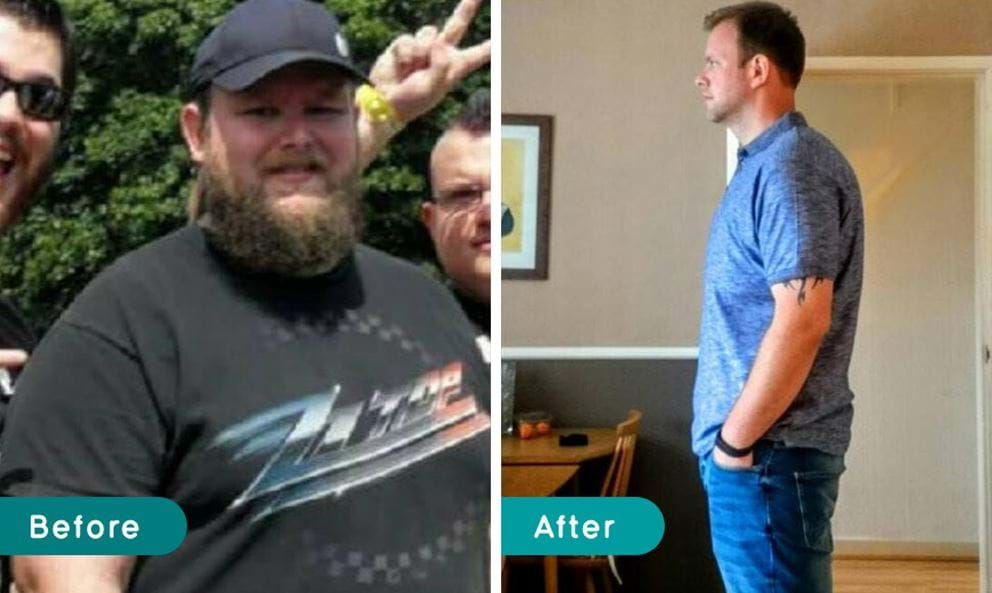 Meet Andrew, who has been a member at PureGym since January 2016. His transformation so far is incredible - he's lost 13 stone, proving that with hard work and commitment, you can transform your body and your health.
Hi. I'm Andrew and I'm 34 years old. I work part time as a Sports Coach and up until recently I was a full time carer for my grandad who unfortunately has passed away.
 'At my heaviest I was 28st. I couldn't control how much food I ate. I would say I was addicted to food. I've lost at least 13 stone so far, and now I'm aiming to get to 200lbs'.

When my fitness level was below zero, there wasn't a day that went by where I wanted to make a change. I decided enough was enough, and after Christmas of 2015 I joined PureGym to do something about it.
Being a carer for my grandfather was really tough both physically and mentally. Having an outlet where I could channel my frustrations was just what I needed. And since I knew I had to drop some weight for my health, and because I wanted to set a good example to the children I coach, working out was the right thing for me to get into.  
'My diet before was atrocious. I had copious amounts of junk food, takeaways and comfort food'.
I did however like to hike, and had success shedding weight with hiking in the past but my joints suffered and my cardiovascular endurance was poor.
'When I started out changing my lifestyle to a much healthier one I did a lot of reading to find out how to lose weight'.
My research pointed me to put my body in a calorific deficit. To achieve this, I focused on cardio to burn calories using the elliptical machine. I chipped away at it, and slowly but steadily my weight started to shift.
I occasionally used the stepper for cardio but the bulk of my time was on the elliptical. I gradually increased the duration and difficulty, incorporating HIIT when I began to plateau, and believe me that happened a lot.
'I realised that commitment, patience and persistence is what was going to bring me success'.
I've cut out eating things like sugar and alcohol and I now stick to eating whole foods and eat plenty of vegetable (broccoli is my saviour!). When I was a full-time carer I found it hard to find time to meal preps so I ate ready meals from the healthy range options and found it helped me with portion control. Every month I would allow myself to a treat meal and I'd be right back in the gym and eating healthy the next day.
The thing I noticed immediately was that my clothes were feeling and looking better on me. I then started to notice muscle definition and vascularity, two things I never had.

'I gained confidence in my appearance, and the self-shame disappeared'.
I used to train early so no one would see me but I am now confident to go during peak times and I like to be inspired and motivated from some of the really impressively sculpted and strong people I've seen in the gym. I almost feel part of an army, it's strange!
I'm most proud of building my cardiovascular endurance – I can exercise on the elliptical for over 2 hours, which has surprised me. I'm also becoming more flexible thanks to yoga.
'Seeing other members in the gym work hard towards their fitness goals have been keeping me motivated.'
Also having lost my grandpa recently I want to see this through to the end for him. He was always encouraging and very proud of what I'd done. I'd like to get reduce my body fat percentage further.
'My advice to those who are struggling with their fitness goals is to fully commit, be patient and don't procrastinate.'
Try and be honest and realistic, realise that achieving your goals is not going to happen overnight. Treat yourself to some good gym gear so you feel like an athlete, and then as you get better you'll start to feel like one. Be aware of your calorie intake and don't kid yourself. And most of all, learn to love it. Embrace the challenge - don't give up, and before you know it you'll be already so far down the road towards your goals you'll have forgotten the old you anyway.
'If you don't enjoy exercising, have a try of all the equipment and classes to get and stay active.'
I can guarantee there'll be a piece of equipment or class in the gym that'll you'll love. For me it was the elliptical. Did I mention I love the elliptical?
My next goals is to get serious with weightlifting and to keep on track with my diet by counting my macros so I can sculpt a new me. I'd like to run a few 5k or 10k races and try skydiving too!
Great work Andrew! Your transformation is really inspiring. Thanks for sharing your incredible weight loss journey with us, and we wish you all the best in reaching your fitness goals.
Follow our Instagram for more amazing member transformation pictures to get you inspired to go to the gym, and give Andrew a follow at @andrewdodsworth