Meatball Pasta Bake Recipe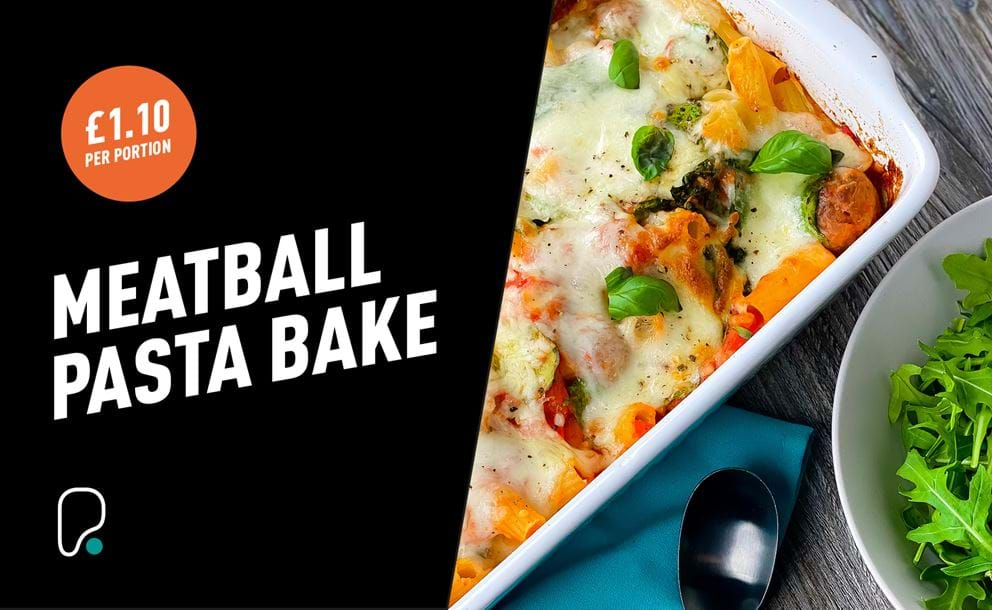 Our meatball pasta bake recipe is healthy and wholesome comfort food in a bowl. Juicy beef meatballs are paired with a rich and flavoursome homemade Italian tomato sauce and baked with gooey cheese on top.


Whether you're off to university and need tasty dinner ideas to impress your new flatmates, or you're looking for some hearty, healthy dinner ideas for your family, this easy pasta bake recipe has you covered!
At just got 522 calories per serving, our meatball pasta bake is packed with 36g of protein and only 12g of fat.
Ingredients (Serves 4)
300g rigatoni pasta
300g lean beef meatballs
½ onion, diced
2 garlic cloves, crushed
2 x 400g tins of chopped tomatoes
1 tsp oregano
1 ball of light mozzarella, sliced
100g light mozzarella, grated
50g spinach
Fresh basil
Low-calorie oil spray
Salt and pepper
Method:
Preheat oven to 200c.
Add meatballs to a pan with a few sprays of low-calorie oil spray and cook for 10 – 12 minutes on a medium to high heat. Once browned and nearly cooked remove from the pan.
Add a few more sprays of low-calorie oil spray to the same pan and add onion and garlic and then sauté until soft.
Add chopped tomatoes, oregano, salt and pepper and simmer for 8 – 10 minutes to allow the sauce to thicken.
Once the sauce is ready, add the meatballs back into the pan with spinach and simmer for a further 4 – 5 minutes on a low heat.
Cook pasta in a pan of boiling water for 8 – 10 minutes, drain and add to the pasta sauce.
Add the meatballs, pasta and sauce to an oven proof baking dish, top with cheese and season with salt and pepper.
Bake in the oven for 10 – 12 minutes until the cheese has melted.
Top with fresh basil and serve! You can also box up any leftovers as an easy meal prep for future lunches and dinners.
We post new recipes every week onto our blog, so make sure to check back next week for another healthy, wholesome and nutritionist approved recipe to help you stay on track with your goals.