Vegan Kentucky Fried Style Jackfruit Recipe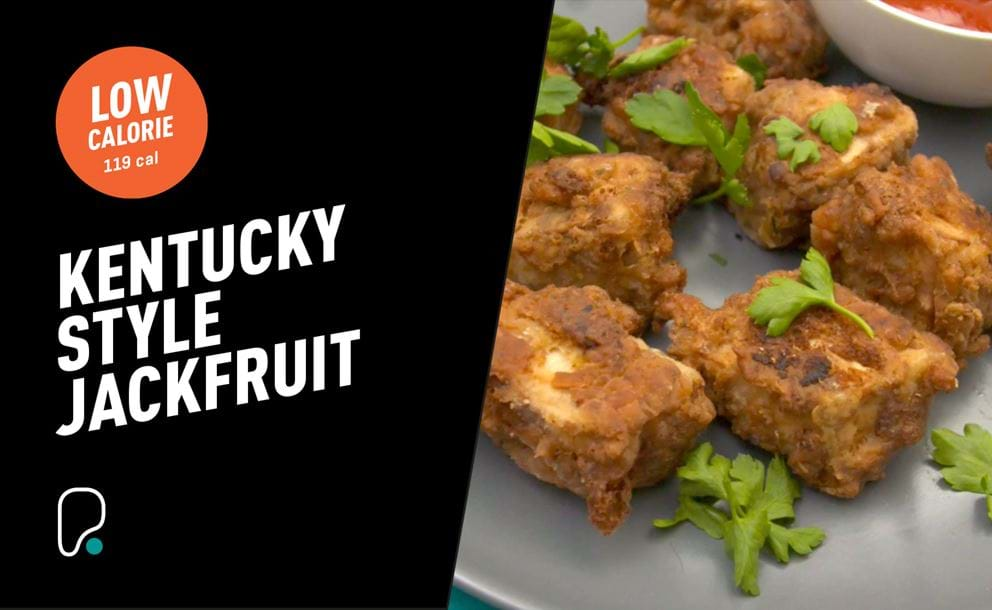 Whether you're vegetarian or not, this Kentucky friend jackfruit recipe is great to tuck in with friends and family. It's crispy and tender – the perfect combo to pair with your favourite dipping sauce. Plus, jackfruit is packed with nutrients like Vitamin A, Vitamin C and it's rich in dietary fibre so if you're wanting to strike the balance between indulging in a treat and eating healthier, this is the perfect dish to make.
If you've never tried jackfruit before many people associate the taste with pulled pork and it can be a great vegan meat substitute.
INGREDIENTS
Serves 4.
1 x 565g tin young green jackfruit in brine

Fry Light x 20 sprays

Handful of chopped parsley

For the KFC coating:

1 tsp cajun seasoning

1/2 tsp smoked paprika

1/2 tsp chilli powder

1/2 tsp onion powder

1/2 tsp garlic powder

1/2 tsp black pepper

1 tsp dried mustard

For the batter:

60g plain flour, plus extra for coating

250ml unsweetened almond milk

1/2 tsp bicarbonate of soda

1/2 tsp salt

1/2 tsp oregano

1/2 tsp basil

1/2 tsp thyme
METHOD
Preheat the oven to 180°C and line a baking tray with baking paper.
Drain and rinse the jackfruit, then slice each piece into bite-sized chunks.
Add the sliced jackfruit into a mixing bowl along with all the ingredients for the spicy KFC coating and stir until fully combined.
Transfer the jackfruit to the lined baking tray and bake for 15 minutes, turning the jackfruit pieces halfway through.
Meanwhile, whisk the batter ingredients in a separate mixing bowl until smooth and runny, and set to one side.
Put a couple of spoons of plain flour on to a separate plate and set to one side.
Dip the jackfruit pieces in the batter. Cover the jackfruit with flour and place on a lined baking tray and put back in the oven for 20-30 minutes.
Take the jackfruit out of the oven once golden and crispy.
Serve immediately topped with chopped parsley and a side of your favourite dipping sauce
MACROS
119 calories per portion
Fat: 1g
Carbs: 20g
Protein: 3g