"I joined the gym in my sixties. I'm now 70 and have not looked back since."- Sue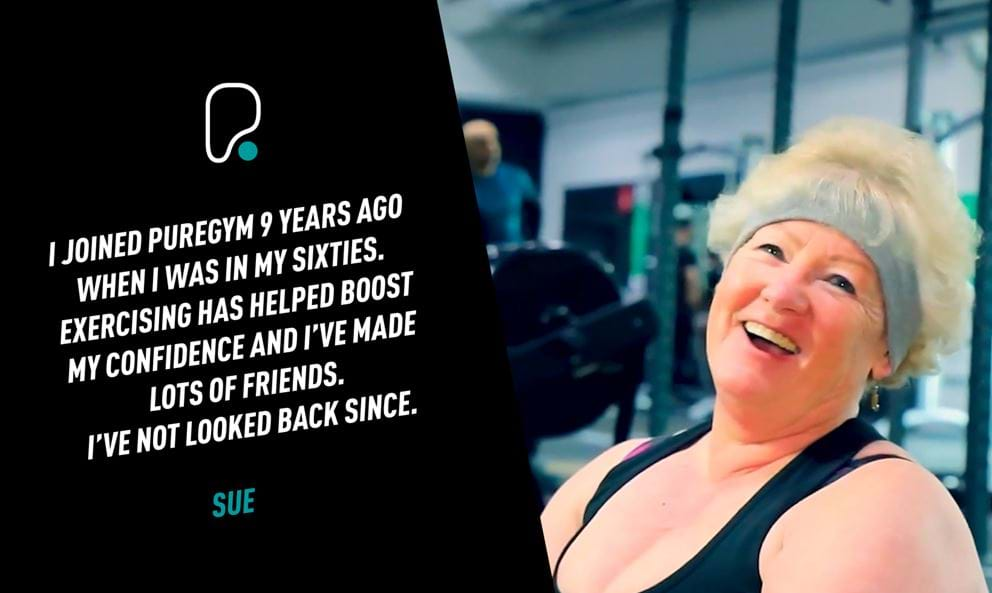 After retiring, Sue joined PureGym to keep active. She's now fitter than ever, and has made a group of friends who regularly meet outside the gym. Read on to find out how the gym has helped to make retirement a better experience for Sue.
Hi. My name is Sue. I am 70-years young and I am a member at PureGym Halifax.
I joined PureGym 9 years ago when I retired to help keep me active.
When I first stepped into my local PureGym, I did not know what to expect. I'd never set foot in a gym before so I was scared at first but I was soon put at ease when Joshua, one of the instructors, introduced himself. It turned out that I knew his mother and gran. He showed me around the gym floor and how to use the gym equipment. If I ever need help in the gym, I know I can approach the managers and instructors. They are so friendly and ready to give advice.

I started out going to Zumba classes and was soon going 5 times a week!

​
Being a dancer in the local amateur operatic society shows, I really enjoy dancing and have lots of energy so this class has been great for me.
While I was going to the gym mainly for the Zumba class, I was keen to work on my strength as this was lacking. I did not know where to start or how to use the gym equipment properly, so I hired one of the personal trainers at the gym called Clare to help me. She put me on the road towards strengthening the weaker parts of my body and introduced me to a healthy way of eating. Through my personal trainer, I learned the benefits of weights and how to use the equipment correctly.
While training with Clare, I have dropped a dress size, gained strength and better posture.
Clare had to leave sadly, so now I have Ania as my personal trainer. She helps with programming my workouts to help me reach my goals.

During my time as a member at PureGym, I have met some lovely people and I am part of a group of ladies of all ages. We call ourselves the Gym Buddies.
Before the pandemic we would meet for coffee, evening meals and get togethers at Christmas, which we are hoping to do again this year. Throughout this pandemic we have kept in touch via WhatsApp encouraging each other to do our exercises at home.
Having a support network has been really great.
I managed to stay active this past year. When gyms closed, my husband Mike taped together two iron bars so I can use it to do exercises like deadlifts and bicep curls. I put some exercise routines together which I had been doing before the lockdown with my personal trainer. I spent one hour, every alternate day, going through my routine in the garden.

I love my gym and it has become part of my daily life.
I love to speak to newcomers and make them feel welcome!
Since gyms have reopened, I have returned to the gym. I have confidence in PureGym's TrainSafe measures which have been put into place to keep members and staff safe. They have cleaning kits so you can wipe kit before and after use. I hope to continue going to PureGym for many years to come.
Start your journey today
Whatever your age, it's never to late to start working out in the gym. Check out our top tips and exercise advice for over 50s to help get you started. Working with a Personal Trainer can help to fast track your fitness journey too. 
Please note: Before starting an exercise routine, please consult with your Doctor and seek advice.