Going to the gym instantly changes my mood. I always feel better after a workout.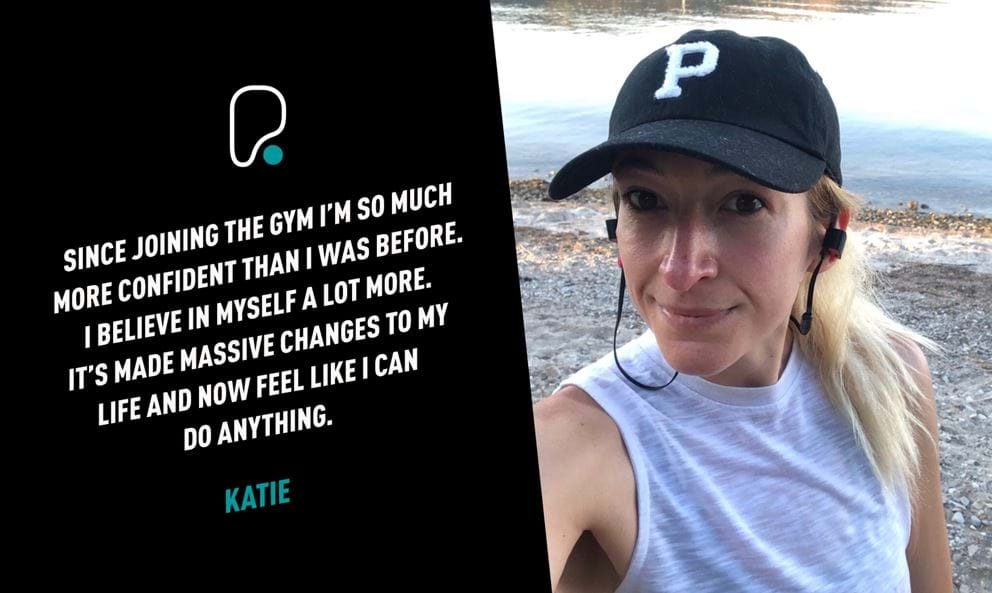 At 20 stone, Katie was worried about the impact her weight was having on her health. Joining the gym and making healthier food choices saw her lose a huge amount of weight. Read her story here.
I'm Katie (@katies_fitness_and_food) and I'm a mum of two. 2 years ago, I weighed nearly 20 stone, which for my frame would class me as overweight. I was worried about my health and what impact this would have later down the line, so I decided to make a lifestyle change. I'm so glad I did as it's changed my life for the better. I can't think of going back now.

How I started my weight loss journey
I started making a step towards a healthier lifestyle by making better food choices. I'd changed what I ate by eating healthier meals and working on portion control which helped me lose 2 stone. I then took the next step by joining PureGym.
When I first joined the gym, my focus was to get more active. I mainly did cardio on my own. As I got into a routine and more comfortable with the gym, I hired a personal trainer. Now my workouts consist of a mixture of weight training and cardio, with my PT. My favourite workout now is HIIT circuit based training.
Getting into weight training

Since lifting weights and working with my PT, my body shape has really changed. I'm noticing a lot more muscle definition and I feel so much stronger too. I still have a long way to go in that aspect of things but I'm happy with my progress.
Noticing changes aside from physical changes
Going to the gym instantly changes my mood. It's time where I can forget about everything else and just focus on myself. I always feel better after I've done my workout.
I used to have a lot of self-doubt mainly because of my weight and let it hold me back in a lot of aspects of my life. Since joining the gym I'm so much more confident than I was before. I believe in myself a lot more. It's made massive changes to my life and now feel like I can do anything.
Enjoying the process

While at first, I didn't enjoy exercising, with time, it's really grown on me and I now love it. If you had told me 2 years ago that I would love going to the gym I would have laughed out loud so don't worry if you don't enjoy it at first.
Take it one day at a time and don't be so hard on yourself. You've got to enjoy the journey.
My advice for anyone thinking about joining a gym or leading a healthier lifestyle is to just start.
Although I know it can be hard for many, try not to fear what other people might be thinking of you when you're in the gym, everyone is on their own journey and not judging anyone else.
Remember that results take time so don't be put off if you don't see results immediately. Stay consistent and the results will follow through.
And believe in yourself! Start off small and build up towards your goals, and you will eventually get to where you want to be.
Nutrition and training go hand in hand

For me healthy eating and working out come hand in hand so I think it's important to work on both. Looking back, my diet was very poor and mainly filled with quick convenience food. I would make the excuse that I didn't have time to prep meals or cook fresh meals every day. But now I make time and enjoy cooking fresh homemade meals, which I like to share on my Instagram. My favourite meal is probably anything spicy! I also love making a healthy chilli with homemade nachos, or chicken tikka kebabs with lots of veggies added in.
I found working on one aspect first then working on the other once I built good habits and structure helped me.
Finding a passion for running

I never in a million years thought I would be where I am today. I've lost 10 stone, which is a lot of weight, I know, but I'm now at a weight which is both healthy and sustainable for me. I'm probably most proud of how much I've improved in running. I can easily run 15K now and now enjoy running most days. It's funny because I'd never ran until last year. I was one of those kids at school who would try everything to get out of running so loving running now is massive for me. It's great that I can now enjoy exercising with my kids too without getting out of breath. I would love to run a marathon one day! That's one of my goals, as well as continuing to work on my strength.
Staying motivated
I know that I won't get the results I want if I don't go to the gym. It takes time and effort, but it is worth it so make sure you find something you enjoy!
Also, just knowing how much of a better head space I'm in after working out keeps me going. Working out is just as mental as it is physical. There are so many benefits when it comes to exercising. You got this!
If you're feeling inspired by Katie's weight loss journey, check out our advice and guides to weight loss here. Ready to start? Find your nearest gym and join today.