How to use social media with your gym routine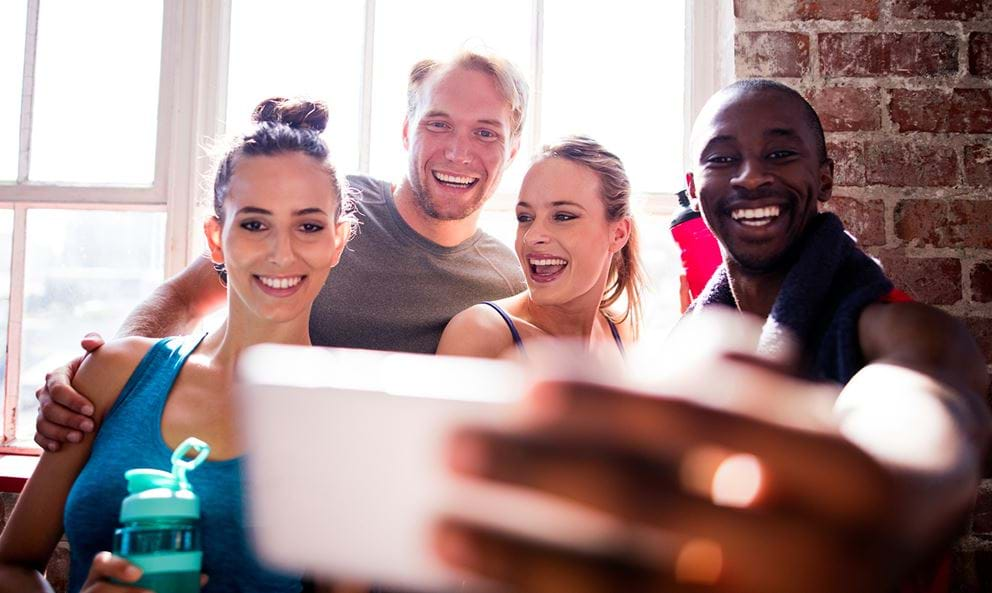 Social media can get a bad rep these days. With all the talk of unattainable-ideals and in-gym distraction, there are plenty of people out there who'd argue Facebook, Twitter and Instagram are three things standing between you and your fitness goals.
But for all these claims of negativity, the opposite can easily be argued. Every minute of the day, people are sharing inspirational posts using motivational hashtags, engaging with fitness-expert influencers, and chatting with those who share their gym goals.
To see what's really going on, we collected the data to discover which fitness hashtags, subreddits and social media influencers are proving most popular, and how today's gym-goers are using their online communities to get inspired
Our favourite fitness hashtags
There's no shame in sharing that gym selfie. Getting positive feedback on your progress is a great motivator, and Instagram or Facebook is a great place to find it.
The most popular fitness hashtag on these networks was the simple #gym, racking up an impressive 16,472,156 mentions across social media in 2017. There's more than a few members of the #fitfam, which was used 12,318,082 times, while there was plenty of positivity from the 9,167,373 people who wanted to share some #fitspo last year.
Explore more of our most-used gym hashtags below.


---
Subreddits getting us motivated
Subreddits getting us motivated
When it's time to talk fitness, many of us turn to Reddit. With over 250 million monthly users, and discussion boards for more than 800,000 different topics, it's the place to go for tips, advice and encouragement. Each dedicated section of the site is known as a subreddit, and there are hundreds dedicated to healthy eating and exercise alone.
We found that runners have the edge in the Reddit-popularity stakes, with r/runninglifestyle being the most active fitness-orientated forum. r/strength_training also proved a hit for those looking to make gains, while r/HIIT coming in fifth shows just how popular this form of exercise has become in recent years.
Explore all the most popular subreddits below.

---
Influencers making an Impact
In a world where most of us are engaging with social media for hours a day, those with masses of followers can have a profound impact. These individuals are known as influencers, and can be a great source of fit-spiration and advice no matter what your level of experience may be.
We explored Instagram to find the fitness influencers with the biggest following. Coming out strong was Lita Lewis. With 491,000 followers, her @followthelita feed dedicated to all things strength and wellness receives a bigger audience than the entire population of Edinburgh.
Other influencers to make a big impression include Kettlebell King Eric Leija with over 135,000 followers, The Lean Machines offering lean goals to their 112,000+ followers, and Jade Joselyn, who offers her "fitness loving Paleo foodie" outlook to over 81,000 followers.
Here's our full rundown of Instagram's most influential fitness-fanatics:

Most influencers understand their powerful role as motivators. To get the view from their side of the great social media debate, we spoke to two Instagram stars.
We asked them; "How do you think social media can have a positive impact on motivating people to work towards their exercise goals?"
"Social media gives us access to the world and its people. When you seek motivation to help propel you towards your fitness goals, social media opens windows to those just as dedicated to the fit life! You're able to expand your fitness community, browse, correspond and share advice with other fitness enthusiasts whom may have similar goals as yourself. What you lack in your daily life and environment you will no doubt find on social media!"

Lita Lewis

Fitness influencer, 501k followers
"I love going on Instagram and social media when I'm feeling a bit demotivated as I always feel really inspired after seeing people I follow working out, eating healthy and trying to be their best self. I aspire to inspire others by sharing my love for all things food and fitness and encourage people to do the same. I never feel any pressure as an influencer to be a certain way and I feel that your followers will trust and connect with you more if you remain authentic. I do think it's amazing that influencers have a platform and a voice to inspire and help people by sharing their own stories and knowledge."

Jade Joselyn

Fitness influencer, 80.9k followers
---
What Reddit has to say about social media and the gym
Be it Facebook, Twitter, Instagram or Reddit; the internet seems to be a great place to be if you're looking for some advice and inspiration. To see how gym-goers are using the internet to support and motivate each other, we looked at the kind of discussions that were taking place across our fitness-focused subreddits.
"It's great to know that there is a community here. It's a great psychological boost to know I'm not alone."
One user of the Exercise Out of Depression (r/EOOD) subreddit said the forum "helps me by being that special place where I can go and find people who truly get it." They added "even though we all struggle with different things and deal with it in different ways, everyone knows and understands on some deep level why each of us is here, and they support that endeavour towards balance and health."
"Motivation is a big thing here. There are two topics that we cover a lot. Getting started and keeping going. Giving someone the confidence to start and helping one another keep on keeping on."
Another user of the site replied, "the biggest help that I've received from this sub is how the posts that pop up 'remind' me, if you will, to exercise. I've only been actively participating on the sub for a few months, but it is great to know that there is a community here. It's a great psychological boost to know I'm not alone."
All of this paints a very different picture to the one that's too-often assumed – that social media puts us down and demotivates us. Instead, right across the internet, gym-goers are coming out in force to encourage each other and share their positive progress. 
Now you know how to get motivated online, it's time to put this inspiration to the test at the gym.

Don't forget to share your snaps with us by hashtagging #Bringingit to be featured on our Bringing It gallery!
Find out about our membership options and discover which fitness class is perfect for you.