High protein foods you may have eaten before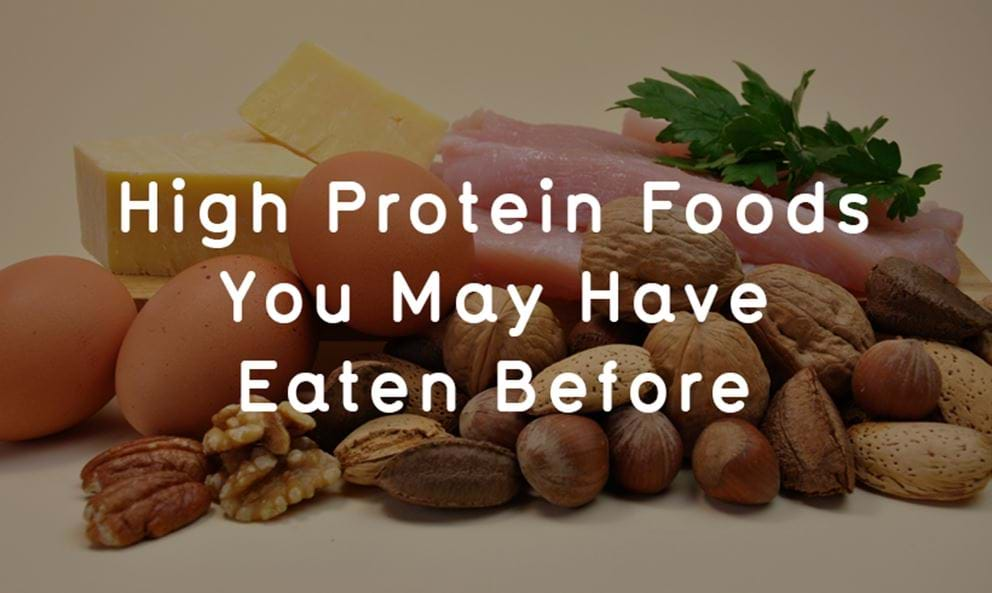 For the aspiring musclemen out there, who have to juggle the demands of a 9 – 5 routine and the normal commitments that come with everyday life, getting big can be a struggle. It can be tough finding time to get down to the gym, getting enough sleep to allow your body to grow to the best of its capabilities, and so on.
The biggest challenge for many iron disciples, however, comes in terms of diet. Getting enough calories in, sure, but also getting enough of that elusive macronutrient which makes all muscle growth possible; protein.
Carbs are easy, you're more likely to consume too many than too few in any given day, and you can get a hold of them dirt cheap in just about any form you want. Getting tonnes of protein without taking out a second mortgage on your home, and living off steak and chicken fillets, though? Less easy.
So, to make the going a bit easier, here's a list of often overlooked protein sources for you to include in your daily quest for endless growth, and if you're curious as to how much protein you should eat, we wrote a blog post to answer your questions).
DAIRY PROTEINS
If you're one of the lucky ones who can digest dairy products, without having your body aggressively protest about it all day, then there are few things as convenient as having a high protein yoghurt for breakfast, or during a lunch break.
Here are some of the best candidates:
Greek Yoghurt – 23g in 8oz. Not only does Greek Yoghurt boast a great amount of protein per serving, but it's also far healthier for you than the sugar-laden, and artificially flavoured brands. Add fruit for a healthy flavour and micronutrient hit.
Cottage Cheese – 14g in ½ cup. Cottage Cheese is a great way to get some protein in on short notice, and can be added to a salad or eaten straight from the container. This is a great protein source for vegetarians in particular – dense and readily available.
Soy Milk -- 8 g per 1 cup serving. With its high protein content, soy milk is a great alternative for the lactose intolerant, or for those who simply want something different with their morning coffee or cereal.
SEAFOOD
Seafood tends to be less of an "on-the-go snack" and more of a mealtime commitment. Fish lovers may be happy to find out, however, that there are plenty of high protein options available aside from the usual cans of tuna.
Yellow fin Tuna - 25 g per 3 oz. serving.
Halibut - 23 g per 3 oz. serving.
Salmon - 23 g per 3 oz. serving.
CANNED FOODS
Canned foods might not be the gourmet choice for any aspiring MasterChefs out there, but they are a great way of ensuring you always have a meal ready to go, on those hectic days. Instead of store bought sandwiches or fast food to take the edge off after work, try throwing a few of these together in a bowl for a high protein, muscle-friendly ready meal.
Anchovies -24 g per 3 oz. serving.
Sardines - 21 g per 3 oz. serving.
Lentils - 13 g per 1/4 cup serving.
Navy Beans - 20 g per 1 cup serving.
SNACKS
If yoghurt isn't your idea of the perfect midday snack, consider some of these extras. Tofu is a versatile, vegetarian-friendly food with a neutral taste, which can be combined well with just about any set of ingredients. Beef jerky is, of course, a high protein, processed meat which can be enjoyed straight out of the packet, and peanut butter is a surprisingly high protein spread for those who want to give their sandwiches some extra kick.
Beef Jerky - 13 g per 1 oz. serving (look for MSG and nitrate free brands).
Peanut Butter - 8 g per 2 tbsp serving.
Tofu - 12 g per 3 oz. serving.
VEGETABLES & GRAINS

For the vegans and vegetarians out there, as well as those who just need serious motivation to eat their greens, consider the following high protein plant based delights; the perfect base for a meat-free meal, or as a side-dish accompaniment to a more carnivorous feast.
Edamame - 8 g per 1/2 cup serving.
Green Peas - 7 g per 1 cup serving.
Quinoa - 8 g per 1 cup serving.
Soba Noodles - 12 g per 3 oz. serving.
Hopefully, you'll be able to apply this to your diet and regime, without the fear of breaking the bank for extra protein.