High Protein Chocolate Mocha Frappe Recipe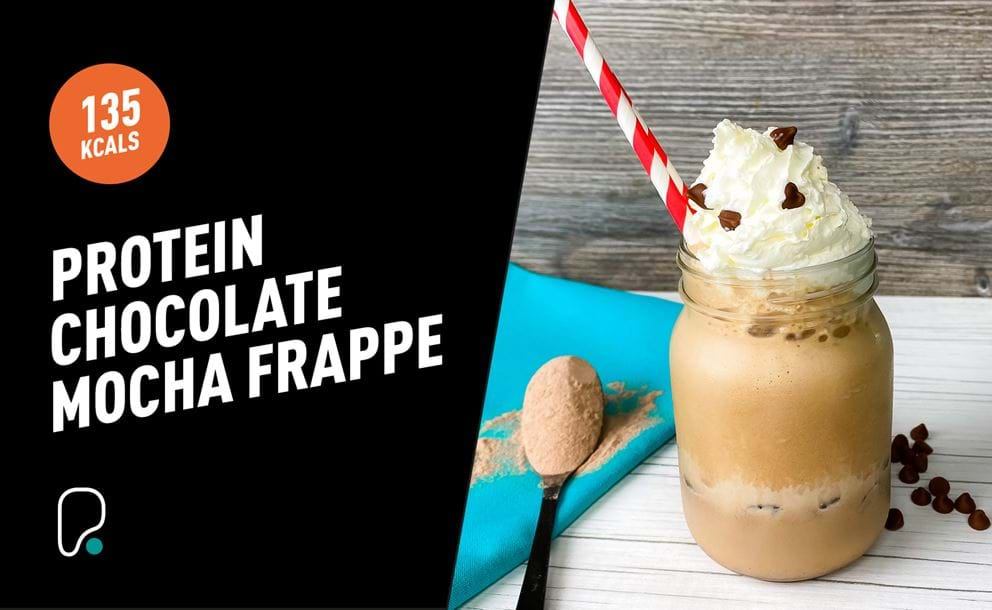 Level up your protein shake and get a kick of caffeine with our delicious Chocolate Mocha Frappe, packed with 15g protein and only 135 kcals.
Indulge without the calories in a rich coffee base, sweet and creamy chocolate, topped with light whipped cream.

Coffee shop frappes can be loaded with empty calories and heaps of sugar, making them better suited for a one-off treat than an everyday fix.
Our healthier, high protein, homemade chocolate mocha frappe taste just as good but is full of protein to support your muscles and help you stay on track with your fitness goals. You can read more about the benefits of a high protein diet here.

Ingredients:
50ml coffee
50ml milk
15g chocolate protein powder
½ tsp vanilla essence
Handful of ice
12g low fat squirty cream
Method:
Make up your coffee – either with granules, capsules or a cafetiere – and then take 50ml of the brewed coffee and add into the blender
Add all the other ingredients into a blender and blend until smooth
Add the frappe to a glass and top with fresh squirty cream
Enjoy!
Want more high protein recipes to help you on your fitness journey? Try our Sticky Sesame Chicken packed with 39g protein or our Chocolate Orange Protein Flapjacks with  23g protein.