Feeling Lonely? How The Gym Can Help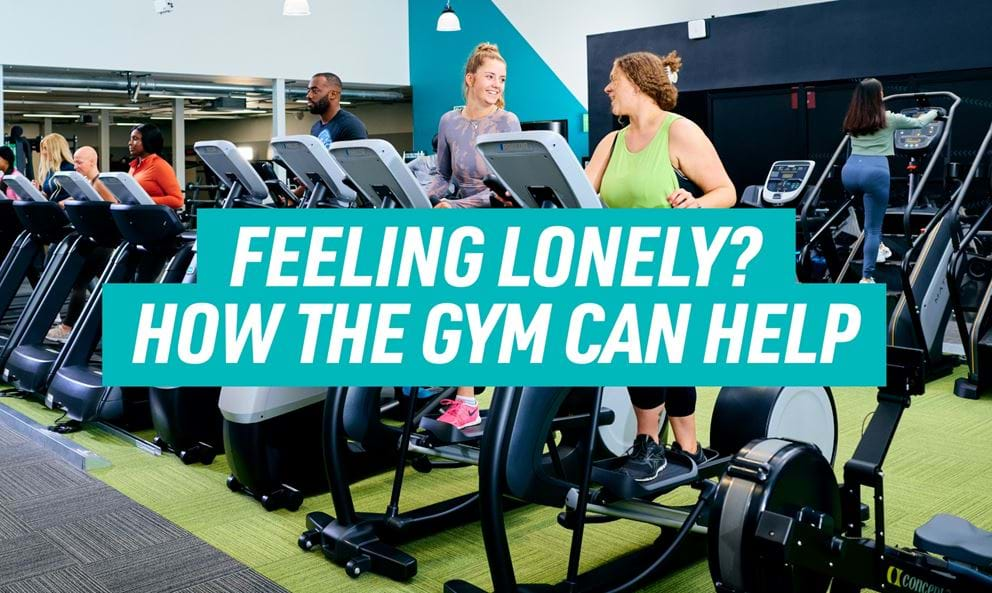 The theme for this year's Mental Health Awareness Week is loneliness. Stats show that 45% of adults experience some level of loneliness in the UK every year, and we want to help change that.
Loneliness can feel different to everybody, and it doesn't always have to mean you're physically alone. Loneliness can also refer to feelings of social loneliness and isolation, such as not having a sense of belonging or feeling part of a community. 
We know how important the gym can be not only for people's physical health but also for their mental health too. A large part of this can be the social and community aspect of the gym – bringing like-minded people together.
The Mental Health Foundation believes that 'connection to other people and our community is fundamental to protecting our mental health' and we couldn't agree more. That's why this Mental Health Awareness Week we're on a mission to support and connect our members to help combat loneliness.

How you can get involved this Mental Health Awareness Week
Throughout the week we'll be sharing heart-warming stories from members of our PureGym community that found their buddies at the gym, and how training together has helped their mental wellbeing.
We hope to open up more conversations and connections through our channels and social events - inspiring more members to say hello and make new friends through the gym.
We'll also be sharing lots of helpful information and tips for anyone that may be struggling with their mental health or experiencing loneliness, with the help of our partners at Mental Health UK.
Meeting New Friends in The Gym
If you are looking to make friends in the gym, we know that this may feel a little daunting. But it doesn't need to be as scary as we sometimes make it seem in our heads. It really can be as simple as a smile and a hello to find your new workout buddy!
We spoke to Matty Ramsden, PT at Leeds Thorpe Park, to find out his top tips for making friends in the gym - click here to check it out.
And if you're still not sure, don't just take our word for it. We're so proud of our incredible PureGym community and love to hear our members' stories of how the gym has helped them make friends and feel more connected.
Sue Peel, a member at PureGym Halifax, credits the gym for enriching her life and expanding her social contacts.
"I am in a group of 12 ladies who I met at PureGym Halifax - we call ourselves, the Gym Buddies and have a WhatsApp group to chat and support each other. It began with three or four of us and built up to a dozen. We all have different backgrounds and we just gelled. 
We meet for coffee after gym classes and go for meals two or three times a year. If anyone has an accident or is taken ill or has a special birthday, we send flowers and give them extra support. We are all committed to supporting each other through the good or the bad. That's what buddies are for. 
My advice is not to be afraid to join PureGym classes. Everyone has been new once and understands how you're feeling and will help you set up the equipment and settle in. Walking through the gym doors is the hardest thing, but by joining the gym you have committed yourself to a lifestyle you will never regret, and you might make friends for life."
You can read more about Sue's member story here.

Hayley, Ireena and Sarah also met in the gym and quickly became gym buddies that not only support each other to hit PBs and reach their goals but also support each other outside of the gym too.
"When my motivation is low, they pick me up! There's a fun competition between us and I always push myself more when they are there."
From strangers to gym buddies, they say their gym community feels like a little family, and that training together has helped them feel mentally and physically stronger.
You can read more about Hayley, Ireena and Sarah's 'Gym Buddy' story here.

Where to access support if you're feeling lonely
If you're feeling lonely there are lots of resources to help you access support. Mental Health UK runs an online platform, Clic, where everyone is welcome to get and give peer support and get access to their information and resources. It's a safe and friendly environment where people can share their experiences, and there is someone from Mental Health UK online 24/7 should anyone need urgent support.
If you are going through a hard time or suspect someone you love isn't quite themselves - please reach out and talk. You can contact helplines and use other resources such as:
We want to help combat loneliness, but we can only do that together. If you are confident and comfortable in the gym, we'd love for you to reach out to others who do need some support this week and share your knowledge or just have a chat!
We will have lots going on in our gyms this week, so, whether you're a confident gym-goer or new to the gym, why not get involved and connect, socialise, and find new gym buddies to train and attend classes with! Speak to a member of your local gym to find out more.