Fajita Fish Tacos With Chilli And Lime Sauce Recipe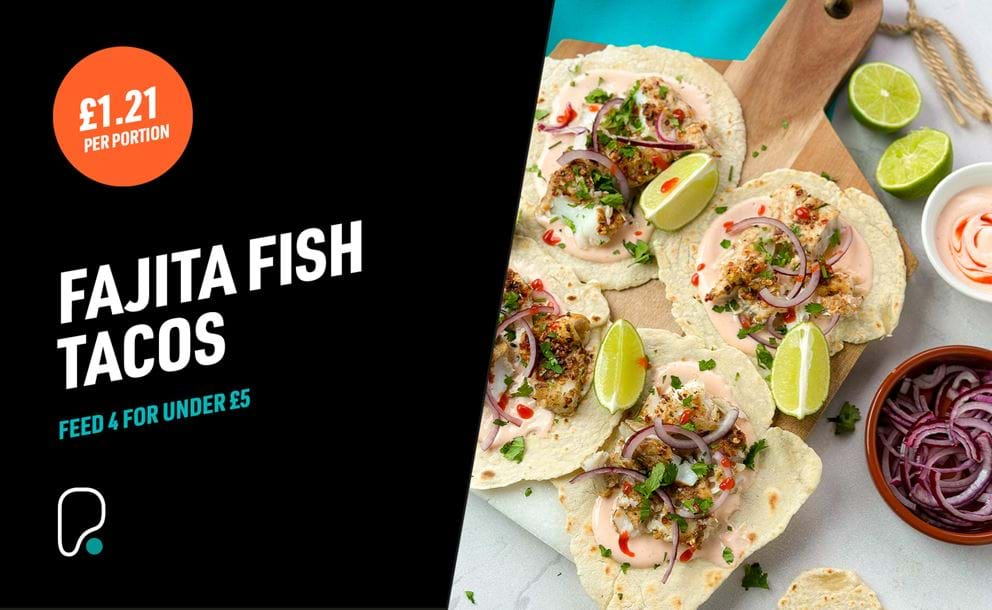 Looking for a healthy dinner that transports your tastebuds? These fajita fish tacos are the perfect Mexican inspired lunch or dinner that take just 30 minutes from prep to plate – and that's including making homemade tortillas!

We pair our fluffy homemade tortillas with seasoned meaty cod fillets and finish them with a zesty chilli and lime sauce for a dish that is packed with interesting flavours and textures.
We've opted for cod as our protein as it's high protein, low fat, and full of health promoting vitamins and minerals, to create an all-round nutritious meal that saves on calories and helps to keep you fuller for longer. At 39g protein per serving, this dish is great for post-gym recovery.

Full of flavour and nutritional benefits, our fajita fish tacos recipe is even gentle on the wallet and costs just £1.21 per portion! And taking just 30 minutes to make, this is the perfect midweek meal.
Serves: 4
Prep time: 15 minutes
Cook time: 15 minutes
Ingredients:
For the Fajita Fish you will need:
4 cod fillets
4 garlic cloves, crushed
1 lime, juiced
2 tsp chilli flakes
2 tsp ground cumin
2 tsp chilli powder
2 tsp ground coriander
Salt and pepper
Low calorie oil spray
For the Tacos you will need (makes 8):
400g plain flour
4 tbsp butter, melted
240ml hot water
2 tsp salt
For the Chilli and Lime Sauce you will need:
4 tbsp 0% fat Greek yoghurt
2 tsp sriracha sauce
½ lime juiced
To serve:
½ red onion, sliced thinly
Handful of fresh coriander, diced
Method:

Preheat your oven to 200c.
Mix together the cod fillets with the garlic, lime and spices before seasoning with salt and pepper and spraying generously with low calorie oil spray.
Place the seasoned cod fillets onto a lined baking tray and pop it into the oven for 10-15 minutes, depending on the thickness of the cod.
Next, place the flour, melted butter and salt into a dish and slowly add hot water until the dough comes together.
Knead the dough for 2-3 minutes.
Now, take a small handful of dough and roll it into a rough circle shape. Repeat this step 8 times to make your 8 tacos.
Next, heat a frying to a medium heat and place a taco into the pan.
When the dough starts to bubble flip the taco and cook the other side.
Repeat until the dough is all used.
Now mix together the ingredients for the chilli and lime sauce.
To serve, top each taco with flaked cod, chilli and lime sauce, red onion and fresh coriander.