Easy chicken tikka masala recipe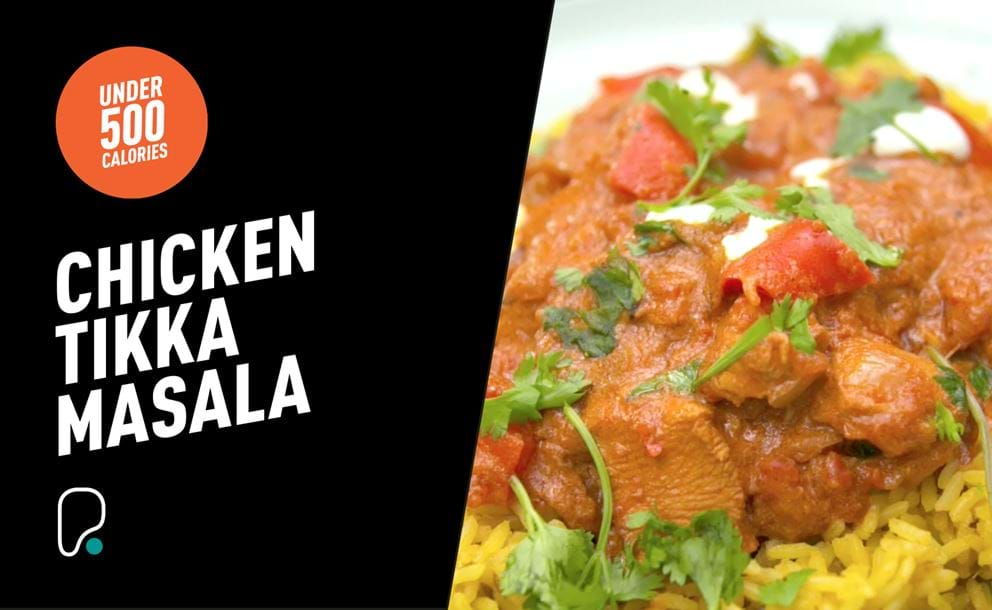 Who loves a good curry? Try this simple chicken tikka masala recipe for your next curry night. Packed with lots of spices, we're sure you're going to get a kick from this delicious meal!
INGREDIENTS
Serves 8 portions
2 tbsp extra virgin olive oil
20g unsalted butter
3 white onions
2 red peppers
6 chicken breasts
2 x 400g cans chopped tomatoes
150ml low fat Greek yoghurt
chopped coriander to serve
TIKKA MASALA PASTE (6 tbsp tikka masala paste)
5 cloves of garlic
4tbsp tomato puree
Large knob of fresh ginger
1 red chilli
2tsp ground cumin
2tsp ground coriander
1tsp turmeric
1tsp paprika
1tsp garam masala
extra virgin olive oil
METHOD
In a small food processor combine all the dry ingredients to make the curry past. Start to whizz together the ingredients adding in a little olive oil or water to keep the paste moist and easy to blend.
Roughly chop the onions, deseed and cut the peppers into chunks and cube the chicken breasts.
Heat the oil and butter in a large, lidded casserole on the hob, and then add the onions and a pinch of salt.
Cook for 15-20 mins until soft and golden.
Add the paste (recipe above) and peppers, then cook for 5 mins more.
Add the chicken and stir well to coat in the paste.
Cook for 2 mins. Add the tomatoes and 200ml water.
Cover with a lid and gently simmer for 15 mins, stirring occasionally, until the chicken is tender.
Remove the lid, blend in the yogurt, then gently warm through. Curry is ready to be served!
MACROS
452 calories per portion
Fat: 19g
Carbs: 23g
Protein: 52g