Making a lifestyle change was a huge factor for me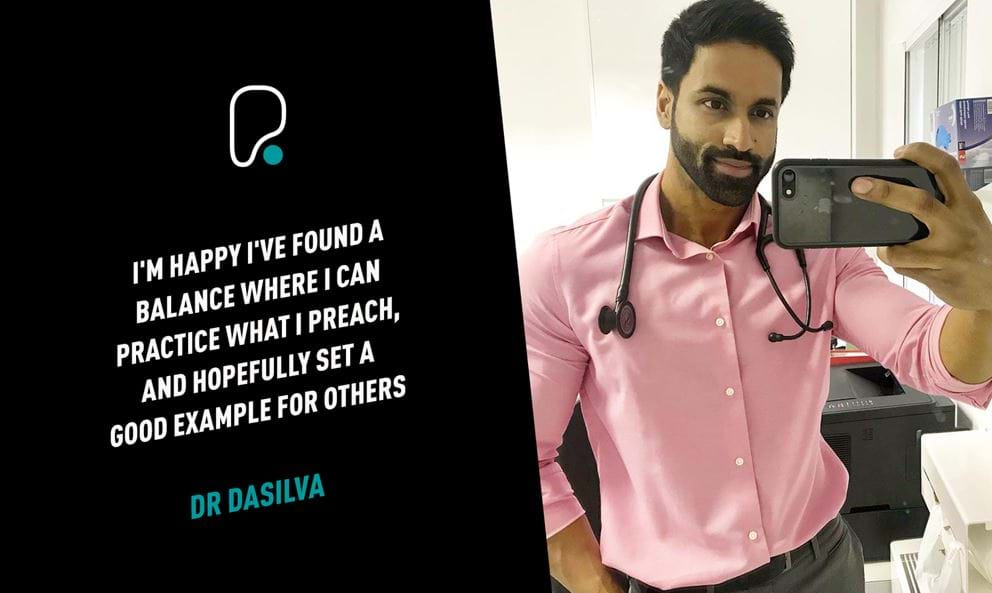 After struggling with his mental health, and subsequently gaining weight, Francis started training at home using YouTube tutorials, and making changes to his diet. After losing weight he started competing in physique competitions and even won transformation of the year, and has newly found confidence and self belief. Read his story below. 
Hi, I'm Francis. I'm a General Practitioner (GP) doctor. I reached a low point in my life several years ago, whilst studying Medicine and practicing as a Junior GP. I suffered with anxiety, low self-confidence and low self-esteem. Coupled with that I had faced some challenges in my personal life and put on a lot of weight. I wasn't in a good place both physically and mentally. I didn't have any initial goals to begin with - I just wanted something to help me rebuild my life, which turned out to be working out and looking after my diet.
Although it was an extremely challenging time for me, looking back now, I am so grateful for that low phase in my life because it gave me the chance to grow as a person. Making a lifestyle change was a huge factor for me, in looking after both my mental and physical health.  
How I got started my fitness transformation
I initially trained at home using resistance bands, a dumbbell, a bench, clamps on the ceiling to do pull ups, and a pair of running trainers before going to the gym. 
I taught myself how to weight train through reading lots of fitness magazines and watching Youtube videos, which is probably what many people do these days. I guess my medical knowledge did give me a head-start into understanding the human anatomy, physiology and nutrition.
When I first started weight training, it was more a one-body part per day split which included compound movements to help get me stronger. I then slowly added cardio into my training. I now train about 5-6 times a week.
Every little progress I was making with my fitness journey helped me build my confidence.

It took me about 2 years to get to a healthy weight. I went from being overweight to a healthy weight, and from being someone who was shy to someone who competed on stage in Physique competitions. I've even won a Transformation Contest this year, which was incredible.
It wasn't just the physical changes
While getting to a healthy weight and in good shape is great, it was the changes I felt internally that really made a difference to my happiness. Slowly but surely, I began to believe in myself, realise I too had value and a place in this world and that I shouldn't be afraid to just be me.
Exercise to this day remains one of my best friends. It never lets me down. It helps me to relieve stress, focus my mind and I really enjoy it, so it keeps me happy
I've grown so much in confidence and self belief and self-worth since joining PureGym. I will be forever thankful for that.
I've also made many close friends at PureGym. Everyone is friendly, and it's nice to have support around you with people who uplift you to be the best person you can be. It's nice to see other people working hard in the gym to achieve their goals and being able to share each other journeys. I'm always picking up tips from fellow members and PTs. If I see someone doing a new exercise or variation, I'm not afraid, as I once was, to go up and ask for advice. We're all in there to learn and grow and help each other.
It's a lovely feeling to feel like you might be inspiring people and giving a feeling of hope and hopefulness to others.
Staying fit as a doctor

As a GP, a lot of our work is health promotion and trying to encourage healthy lifestyle changes. I love trying to help people become more active, eat healthier, reduce their cholesterol, blood pressure and diabetes risk through lifestyle changes and hopefully through all this led them to happier, healthier lives.
It's good that I have found a balance now where I can practice what I preach, and hopefully set a good example for others.
What's next?

I may do another bodybuilding competition in future. I'm enjoying trying different styles of training. Recently, I've been into calisthenics. The new PureGym setup with the functional area is great for it. I'd also like to improve my conditioning and improve my cardio fitness further. I'm planning to take swimming lessons next year and start going to Cycle classes to help with this.
Another goal I have is to get my personal training qualification, so that I can share what I have learnt and help people on their own road to self-improvement. Combining that with my work as a GP doctor would be a wonderful and hugely satisfying way for me to bring a positive change to the world.
Aside from fitness, I have a fondness of writing poetry and quotes myself. I would love to publish a book one day.
One of my favourite quotes is one of Bethany Hamilton's
"I don't need easy, I just need possible"
As I love writing poetry, here's one from me, which hopefully leaves you with a thought to take away:
"Be flexible with your goals, but rigid with your dreams. Because even steel will bend. With enough force." - Dr F DaSilva
I believe determination, persistence, stubbornness and a never give up attitude leads to growth in so many ways.
My number 1 tip for your fitness journey

If you could give my previous self any advice it would be to believe in yourself that little bit more. You are enough, you are ok and it's ok not to feel ok at times. You mean something to this world, even if it's just to one person and that person is you. Don't be scared. For it will be okay. Just go out there and be you. Give it and give life what you've got and enjoy the process. Hold onto that glimmer of hope. Always. Forever. And never let it go.
Follow my journey on Instagram @doctordasilva
Start your own weight loss and fitness journey at one of our 300+ gyms across the UK - find your nearest gym here.