Creamy Vegan Coconut Curry With Sweet Potato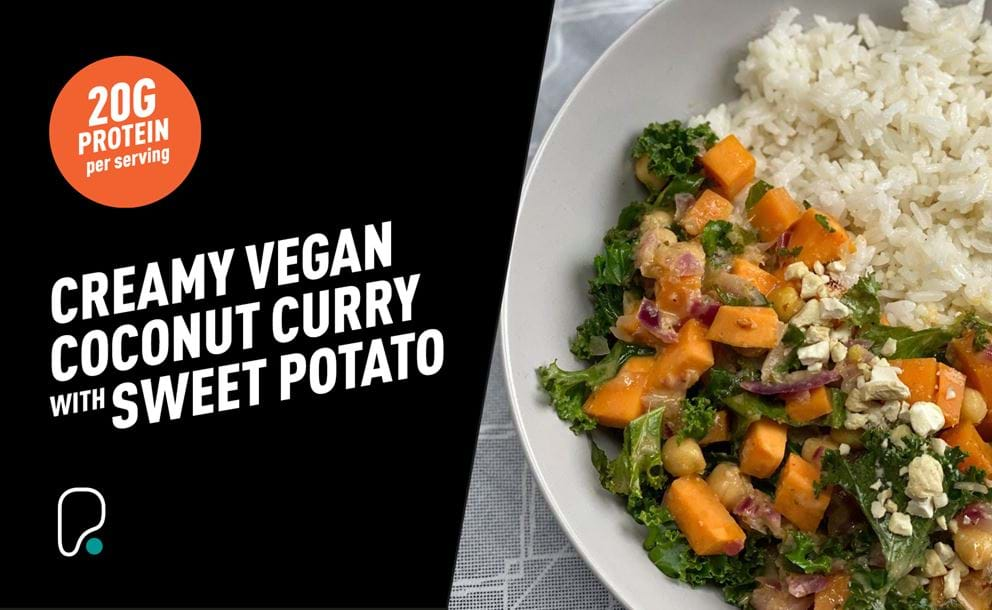 Enjoy this creamy and delicious vegan coconut curry at home, packed with lots of veg and flavour - it's the perfect comfort meal for the colder winter days! Each serving provides 20g of protein.
Ingredients:
Serves 2
1 

tablespoons

 

coconut oil

1 

red onion

 

1 tbsp minced garlic

1/2 tbsp minced ginger

1 

tsp ground

coriander

1 

tsp

salt

1 

large sweet potatoes, cubed

2

tbsp

Thai red curry paste

½

cup 

vegetable stock (90ml)

½

can chickpeas

½

can coconut milk

2

cups 

kale, finely sliced

½ tbsp

lime juice

1 bag microwave jasmine rice
Method:
Melt coconut oil over medium heat, add onion and cook until soft. Add garlic continue cooking for 2 mins.
Add ginger, coriander, salt and sweet potatoes. Stir. Cook for about 4-5 mins (potatoes should still be firm).  Add curry paste, stock and chickpeas.
Cover and turn up heat until boiling. Reduce heat and simmer for 8-10 mins 
Add coconut milk, kale and lime juice. Simmer until kale cooked.
Serve with rice and some freshly chopped coriander.
Nutrition information per serving:
782 calories
20.5g protein
32.5g fat
Of which saturates 21.6
95 carbohydrate
24.5g sugar
12.8g fibre
0.82g salt
More free and simple recipes
Find more simple recipes in our Nutrition section