Chicken Tikka Naan Wraps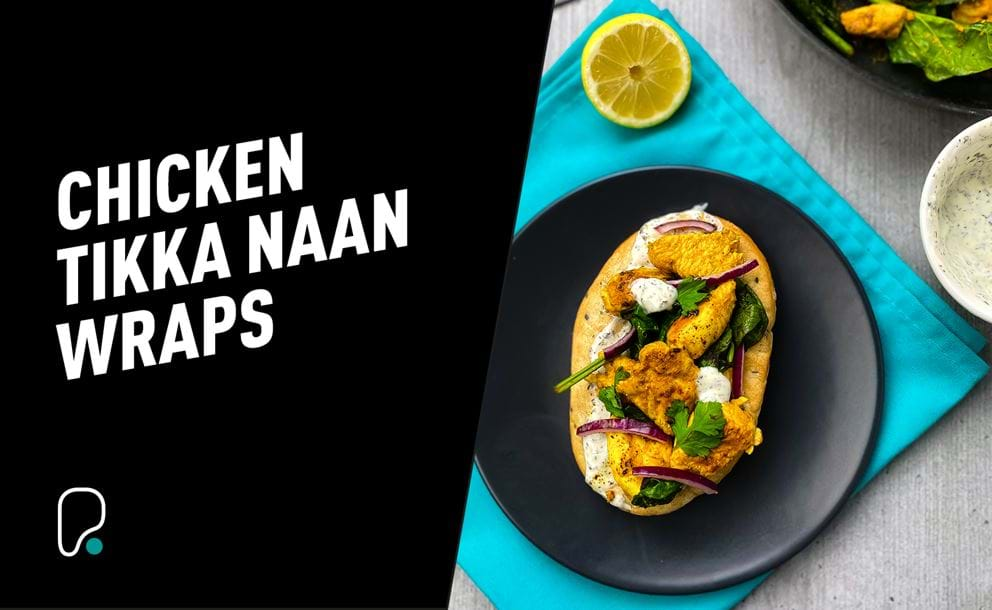 Forget the takeaway this weekend and give these Chicken Tikka Naan Wraps a try instead! Enjoy tender chicken breast coated in a homemade tikka marinade and topped with a mint and yoghurt dip.
Making healthy choices doesn't have to mean you miss out on your favourite meals! At only 393 kcals per serving, 41g protein and 10g of fat this recipe is lighter than your favourite takeaway but still packed with all the flavour.

The best bit, it takes less than 30 minutes to cook! Or if you're after a grab-and-go dinner or lunch it can be prepared in advance to save time.
Ingredients
100g diced chicken breast
1 small garlic naan bread
40g spinach
¼ red onion sliced
Fresh coriander
20g 0% fat Greek yoghurt
1 tsp mint sauce
Tikka marinade:
1 tsp ginger paste
1 tsp garlic paste
½ tsp turmeric
¼ tsp red chilli powder
½ tsp garam masala
1 tbsp Greek yoghurt
½ lemon, juiced
Method:
Mix together all of the tikka marinade ingredients in a large bowl
Add the chicken to the bowl and leave to marinade for 30 minutes (or overnight for a stronger flavour)
Heat a frying pan to a high heat with a few sprays of low-calorie oil and add the marinated chicken
Cook the chicken for approximately 10-12 minutes, until fully cooked, turning when needed
When the chicken is just about cooked, top with spinach and leave the leaves to wilt
Place naan bread into a preheated oven and cook as per the instructions on the packet
Meanwhile, mix the mint sauce and Greek yoghurt to make the yoghurt and mint dip
Top naan with yoghurt and mint dip, chicken, sliced red onion and fresh coriander and serve