Chicken Fajita Burrito Bowl Recipe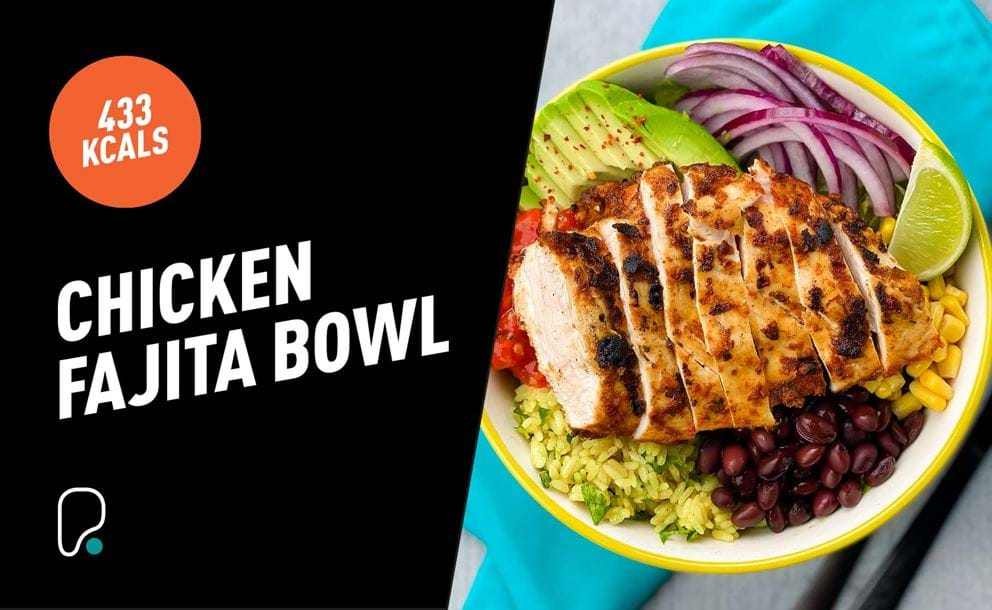 Burrito bowls are all the rage right now, and it's easy to see why. They're simple to make, totally customisable, and full of fresh nutritious ingredients that leave you feeling as good as they taste.

The premise is simple. Load your bowl up with a grain, like rice or quinoa, a protein, like chicken, tofu or steak, and then top with beans and veggies. Add any extras that you're craving such as Pico, creamy avocado, or tangy lime, and voila – a meal that satisfies all the burrito cravings, without the tortilla. Burrito bowls tend to have more veggies, and overall food volume, than a standard burrito, meaning they can be more nutritious and keep you full for longer.
You can make up your burrito bowl recipe as you go along, or you can try our fajita chicken burrito bowl recipe. Bursting with flavour, we've layered with charred seasoned chicken, lime rice, creamy avocado, black beans, and veggies.

It's only 433 kcals per portion and is packed with 45g of protein and only 2g of saturated fat – making it the perfect meal option for anyone who's counting calories or trying to up their protein. Burrito bowls keep well in the fridge too, so if you fancy making it for meal prep, just double up on ingredients for every portion.
We've gone classic with our recipe, but remember you can customise and add any extra ingredients or vegetables you might have in your fridge to reduce food waste.
Serves: 1
Prep time: 15 mins
Cook time: 25 mins
Ingredients:
Chicken:
120g chicken breast
9g fajita seasoning
Low calorie oil spray
Rice:
30g long grain white rice
60ml chicken stock
1 tsp crushed garlic
¼ lime, juiced
1 tbsp coriander, finely chopped
Fajita Bowl:
25g lettuce, shredded
30g black beans, washed and drained
30g sweetcorn, drained
15g red onion, sliced
¼ avocado, sliced
1 tbsp fresh salsa
Fresh lime and chilli flakes to serve
Method:
In a shallow dish or bowl, coat the chicken breast with a few sprays of low-calorie oil spray and the fajita seasoning.
Spray a frying pan with low-calorie oil spray, sear chicken on both sides and cook for about 8 mins per side on a medium to high heat. The chicken should be charred but juicy.
Once cooked, leave the chicken to rest on a warm plate and cover with foil.
While the chicken is resting, cook your rice: combine rice, stock, and garlic in a pan over high heat. Mix well and bring to a boil. Then reduce the heat and cover with a lid until the rice is cooked through.
Fluff up the rice with a fork and mix with lime juice and coriander. Add this to your bowl.
Next slice the cooked chicken into strips and add the lettuce, beans, corn, and onion on top of your rice.
Top with avocado slices, a squeeze of lime and sprinkling of chilli flakes.
Want to try more of our healthy recipes? Give our one pot chipotle chicken a try or our pizza breakfast bagels.