Chicken and Roasted Veg Couscous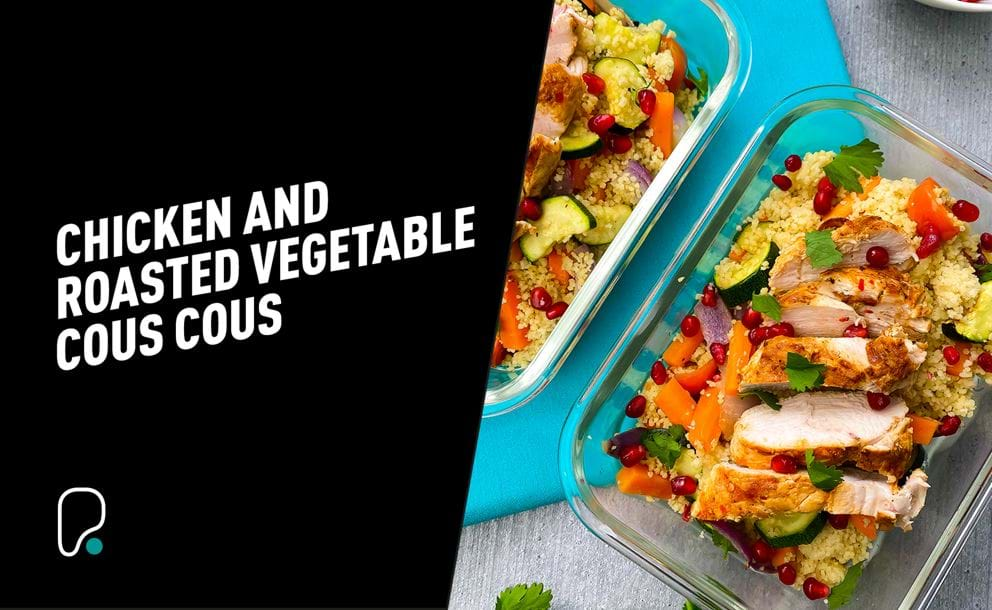 Looking for healthy lunch ideas? Look no further than our high protein Chicken and Vegetable Couscous: juicy roasted chicken, wholegrain couscous, tonnes of vegetables, and bursts of sweet pomegranate seeds are paired together for a delicious and healthy lunch or dinner.
Our Moroccan inspired chicken couscous recipe tastes just as good cold, making it ideal for those who meal prep. Simply cook a batch in advance and portion it up for a quick but nutritious weeknight dinner when you can't be bothered to cook or a healthy lunch on the go.

We know how important workout recovery is, so we've made sure our chicken and vegetable couscous is also packed with 49g protein and only 6g of fat. It's a great post gym meal so you can repair your muscles and fuel your body ready for your next workout!
Ingredients (Serves 2):
250g chicken breast
½ tbsp harissa paste
½ tbsp 0% fat Greek yoghurt
150g couscous
175ml vegetable stock
1 courgette, diced
1 carrot, peeled and diced
1 red onion, diced
8 cherry tomatoes, halved
1 tbsp pomegranate seeds
15 sprays garlic low calorie oil spray
Fresh coriander
Salt and pepper
Method:
For the harissa chicken:
Mix the chicken breast, Greek yoghurt and harissa paste and leave to one side to marinate for 30 minutes (or overnight for a richer flavour).
Once marinated, heat a griddle pan with a few sprays of low-calorie oil spray and cook the chicken for 3 - 4 minutes on each side until meat is white and cooked through.
Once the chicken is fully cooked, leave to rest and then slice lengthways ready to serve.
For the vegetables:
While your chicken breast is marinating, preheat oven to 200c.
Spray a baking tray with a few sprays of garlic low-calorie oil spray.
Add courgette, carrot, red onion, and cherry tomatoes and top with a few more sprays of low-calorie oil spray and a pinch of salt and pepper.
Place into the oven for 25-30 minutes to roast.
For the couscous:
While your vegetables are cooking, place couscous into a large bowl and pour over the vegetable stock.
Cover and leave for 5 - 10 minutes until the couscous has absorbed all the stock.
Fluff the couscous using a fork and mix through all the roasted vegetables.
When all components are cooked - top with cooked harissa chicken, pomegranate seeds and fresh coriander.
Box up into meal prep containers which can be kept in the fridge for 2- 3 days!

Why not give more of our tasty chicken recipes a try? Our sticky sesame chicken fakeaway is a member favourite, our chicken and veggie bake is only 94p per portion and is packed with veggie goodness and our Japanese inspired chicken teriyaki donburi, tastes as good as it looks!