"Working out in the gym has helped me become stronger both physically and mentally." - Charlie
Since joining the gym two years ago, Charlie has lost 45kg. While he initially felt uncomfortable, he soon fell in love with the gym and now works out 5-6 times a week. Read his story and weight loss transformation below.
Hey. I'm Charlie. I joined PureGym in October 2016 when I was 22. My sister encouraged me to have a session with her Personal Trainer, Ace. I was reluctant at first but then gave in a month later and scheduled a PT session. When I went for my PT session it was also the first time I stepped into the gym. I was completely out of my comfort zone but I went for it and haven't looked back since. 2 years on since working out at PureGym I've lost 45kgs.
Since going to PureGym, I've gained so much confidence in myself and I'm so much happier. My life's happiness scale went from one end of the other to breaking the scale! I'm now a much more positive person

Charlie

PureGym Member
At first, I went to the gym 3 times a week. Now I try to get a workout in the gym about 5 or 6 times a week. My training is a mixture of weights and cardio. From time to time I would do a workout with my friends. Working out with a friend can be a great way to exercise because you can encourage and motivate each other.

One of my favourite things about going to PureGym Dudley Tipton is that the members and staff there are extremely friendly. I get along with all of them well! I also love to see my progression on my compound lifts. I remember whenever I would achieve a personal best I would be dancing on the spot doing the floss!
I don't even know where to start for how much I've changed physically because I am literally half the man I used to be. I've reduced body fat. I've gained muscle. My confidence has improved and I'm happier than I've ever been. It really is true when they say a healthy body equals to a healthy mind and vice versa.
It's a place where to relieve stress and free my mind
I couldn't have achieved all of this without the help of my PT Ace. I've learnt so many things from my personal trainer Ace but the main 3 key things I would say are:
Consistency is key – changes don't happen overnight.
Abs are made in the kitchen - if you're working out but not looking after your nutrition you won't see the results you want. You cannot outrun a bad diet 
Make sure you get enough rest – I try to get at least 8 hours of sleep every day to allow my body to recover from my workouts
Before I started exercising I had closed myself off from the world for almost 4 years. I rarely left the house and would be binge eating all day. I dropped out of university in February 2013 and I did nothing with my life as I had fallen into a spiral of depression. Since going to PureGym, I've gained so much confidence in myself and I'm so much happier. My life's happiness scale went from one end of the other to breaking the scale! I'm now a much more positive person. I've also got my first ever job at 23 after being in a mind set of "I can never do this" for years of my life, but today I am feeling on top of the world and ready to take on any challenge that comes my way!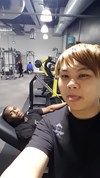 I like to make my workouts fun and engaging which helps me keep motivated to keep going.
My personal favourite HIIT workout is called countdown where you would do for example: 100 star jumps , 90 squats, 80 sit ups and it would continue on until 10 reps of an exercise. It's really flexible as you can add any exercise you want whether it be for reps or seconds. Seeing improvements on my lifts as well as positive physical changes within my body has also been motivating me to keep on top with my training. Another thing that keeps me motivated is the support of my friends and family as well as people I've never met before but have told me that I inspire them.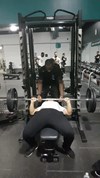 I now live an active life where I fill my week with different activities with things I enjoy. I do quite a few things out of the gym which aren't lifting related such as taekwondo, rock climbing, bouldering, skiing and I've been trying to train for obstacle race courses! In October 2018 I started Taekwondo and since then I've been consistently going to it. I always loved martial arts so now I get to live a childhood dream of mine.

I believe your determination and motivation comes from within. If you start today, tomorrow you can say "I did it". That's a wonderful feeling as that phrase can apply to pretty much everything in life. When people think of the gym they instantly think long hours on the treadmill or exercise bike but there's so many alternatives they could do to make their workouts more fun. I've gone through a couple exercise phases where I wanted to learn calisthenics to powerlifting and now I absolutely love powerlifting!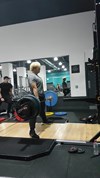 My favourite accomplishments have been finishing Half Tough Mudder and Wolf Run 10k, those two obstacle courses challenged me physically and mentally. As hard as it was, I kept telling myself to not give up and keep running and running. During the Tough Mudder I suffered from 3 calf cramps but didn't give up because I really wanted to finish the course! I've also gained a lot of strength – achieving a 200kg sumo deadlift!

My main goal for the year of 2019 is to become a Personal Trainer so maybe you'll see me walking around in the gym one day! As for my fitness goals, I would like to hopefully reach 220kg deadlift, 120kg bench and 200kg squat by the end of the year.
Follow Charlie on Instagram: @charlie_ig
Feeling inspired by Charlie's weight loss and fitness transformation? Find your nearest gym and get started with your own journey today.