THE UK'S FITTEST JOBS, REVEALED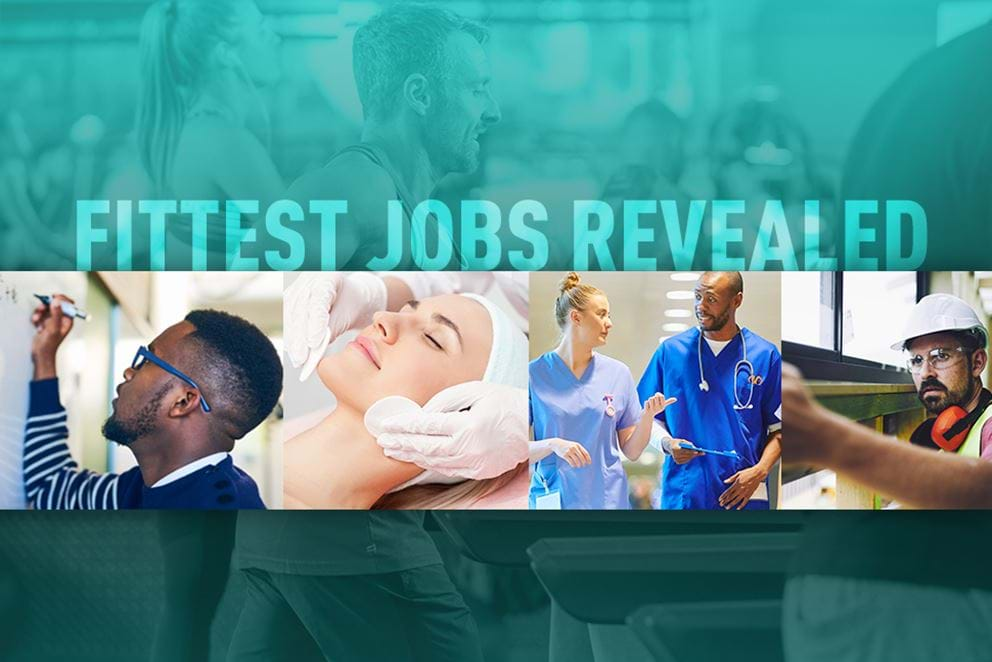 No matter what your job is, exercising should be a fun activity that helps you lead a healthy and a balanced lifestyle.
Ever been on a treadmill next to someone really going for it and wondered what they do for a living, or how often they work out a week?
Does the person pushing themselves in your cycle class work in sales?
How about that extra flexible person in yoga?
We surveyed 2,000 working Brits to discover their fitness habits.
Which Sectors are the Most Motivated?
Coming in at number one are people who work in the science and mathematics industries, such as researchers and accountants, with nearly a third (30.2%) visiting the gym on average 4-6 times a week. The construction and beauty & wellbeing industries rank second and third for gym attendance, with construction workers spending a huge 165 hours on average in the gym a year. In comparison industries including health & social care, retail & customer services and engineering have the lowest gym attendance. 30.8% of health & social care workers attend the gym just once a week or less on average. Whilst improving your general health is the number one priority for most sectors, improving your mental health also ranked highly, with 55.6% of students selecting this as a decided factor. Sharing gym time on social media seemingly motivates both professionals in the art and design and sports, leisure and tourism sectors.
Favourite Exercises by Industry
Cardio ranks number one for most popular exercise, with all but one of the industries surveyed listing it in their top three. Free-weights also rank highly, with 90% of sectors including IT and digital selecting it. Resistance training follows in third place, favoured by media, sports, leisure and tourism and transport professions. Turns out workers in the science and mathematics sectors love to boogie, as 30.6% of them chose Zumba as part of their top three exercises. However, don't expect to see many construction workers getting lost in the music, as not one selected this popular form of exercise! Yoga proved popular with both media and hospitality sectors, but not so much with transport and distribution workers, with only 2.9% of those surveyed a fan of the downward dog. And finally, because we all love a pun, energy professionals such as electricians really do love circuits, 31.4% of them included the exercise in their top three.

Does Salary affect Exercise Habits?
Cardio, abs and legs, bums and tums are the most popular exercises for the lowest salary band of £14k and below, kick-boxing for professionals earning £15k-£20k and free-weights for professionals earning £30k-£40k. For people earning £50k-£75k it's all about the bike – with resistance training and indoor cycling their top exercises of choice. Finally, for professionals earning £75k-£100k a mixture of yoga, circuits and Zumba is most popular, whilst it's all about aerobics for those high earners making £100k or more.

No matter what your profession or fitness level, exercising provides a number of health benefits we shouldn't ignore. The best exercise is the one you enjoy and can stick to and at PureGym everybody is welcome.
Find your nearest gym today or check our popular gyms in London, Manchester gyms or our best gyms in Edinburgh.