10 healthy & cheap breakfast ideas you can make in 5 minutes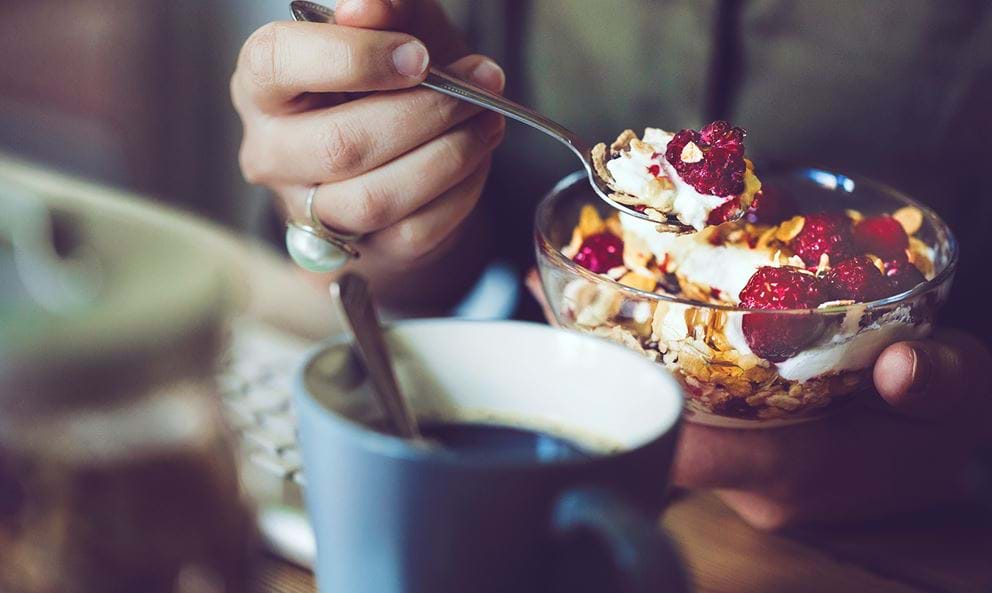 Some mornings are made for snoozing, but that extra ten-minutes in bed could mean less time getting the most important meal of the day. Instead of grabbing a handful of cereal on your way out the door, why not wake yourself up to a tasty, low fat breakfast and start your day off right.
Whether it's scrumptious smoothies, colorful fruit and oat concoctions, or some protein-packed toast toppings, there's so many quick and easy breakfast ideas. Our bodies crave energy, so getting the right balance of proteins, fats, carbohydrates, minerals and vitamins can leave you feeling fuller for longer.
To help kickstart your mornings, we've put together a list of healthy breakfast ideas to help you tackle the day. 
Quick, healthy breakfast
ideas:
A good breakfast is just what you need to keep yourself fueled in the morning. Here are some of our favourites to keep you feeling healthy and energised:
Overnight oats (V/VV*)
Despite what the name may suggest, overnight oats can be prepared relatively quick. They're also delicious, and an excellent way of packing some fruit into your diet while feeling fuller for longer. Simply leave your favourite oat to soak overnight in yoghurt or fruit juice, and chuck in some chopped apple, pear and seeds for good measure.
Avocado toast with egg (V)
Simple breakfast ideas don't get much simpler than this. Something of a modern classic, avocado provides one of your 5-a-day and lots of vitamin E, egg brings a protein boost to the mix, and fibre in the toast helps keep you full until lunchtime.
Avocado toast with Mexican beans (VV)
For a vegan version of the above, you could try replacing the egg with some heated Mexican beans. They make for an excellent alternative source of protein to those yolks and whites, and combined with a pinch of spices or chopped tomatoes (if you've got the time), they're bursting with flavour.
Peanut butter, banana and chia seed toast (VV)
Not only are nut butters packed full of things like protein, healthy fats and fibre, but it takes mere seconds to spread them on your toast, which is why they crop up time and time again in quick breakfast ideas. To add a superfood twist on your classic PB on toast, though, go for banana and chia seeds. Bananas are an excellent source of energy while chia seeds, for something so small, contain lots of good stuff like protein and calcium.
Breakfast burrito (V)
A breakfast burrito might just be the pinnacle of healthy breakfast recipes. Why? With a cheap and simple-to-source set of ingredients, this wrap becomes a bonanza of everything you need. Two or three hard-boiled eggs provide plenty of protein, kale and fresh tomatoes boast an impressive array of vitamins, avocado contributes good fats and a wholemeal tortilla adds fibre to help you feel full.
Berry breakfast parfait (V)
If you've something of a sweet tooth, you'll love these for breakfast. Simply layer spoonfuls of low fat Greek yoghurt into a jar, throwing in handfuls of berries and chopped strawberries between each. When you're done, pour on a few drops of honey and a pinch of cinnamon.
Poached eggs with mushrooms and tomatoes (V)
If you're trying to cut down or keep away from bread as part of your diet, this is a great option for a high protein breakfast, and it's quicker to prepare than you might think. Quickly dice a handful of mushrooms and tomatoes, then leave them to brown in a pan of light oil. Meanwhile, poach your two eggs. Once those are ready, you simply need to combine everything on a plate and voila!
Berries and oats microwave muffin (V)
If you think making your own muffins in under five minutes sounds too good to be true –  it isn't! Simply grab a mug and half fill it with your oats. Then add an egg, a handful of berries and a pinch of brown sugar, before mixing. Stick it in the microwave and, after a minute has passed, keep checking every 30 seconds until it feels firm enough. You could even make four or five in one go, and store them in a container to last you the week.
Green Smoothie Bowl (VV)
Smoothies might just be the ultimate answer when it comes to easy breakfast recipes. You can blitz together just about any combination of fruits and yoghurt (or nut milk for a vegan alternative) and guarantee it'll taste delicious, along with a host of health benefits. But for a smoothie that's a little different, we love this idea. Simply slice two bananas, dice half an avocado, grab two handfuls of spinach and pour in a little coconut water – then mix in your blender. For the topping, throw on some blueberries, coconut flakes and sunflower seeds. It looks as good as it tastes.
Apple, nut butter and granola bites (V/VV*)
These snack-sized breakfast bites are great to eat on the go. Chop your favourite kind of apple into wedges, smear with a nut butter of your choice, then sprinkle with granola – the butter should make it stick. To make it more of a treat, drizzle over some chocolate sauce, but they're still delicious even without it.
This list is by no means exhaustive – there are literally hundreds of tasty, nutritious and quick breakfast recipes out there, that'll see you start your day right. If you have any inspirational ideas or family favourites, don't forget to share them with us!
* Dependent on which version of the recipe is followed.
If you want to learn more about nutrition, why not come and speak with one of our personal trainers? Visit today or find a gym near you to start your new fitness adventure with PureGym!
Give your fitness a nutritious boost!
We've partnered with Musclefood, to help you give your nutrition a boost with their weekly meal solutions. Choose from a range of tasty breakfast, lunch, dinner, and snacks options suited to your goals and they'll deliver straight to your door.
Click here to find out more
.