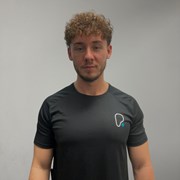 Zac Courtier
As your trainer it is my mission to make sure you feel as comfortable in the gym as possible whilst helping you grow your knowledge around health & fitness, in a safe and enjoyable way learning to trust the process and focus on the small wins which will in turn, equal big results. All I ask in return is patience and consistency this is the winning formula to achieving your goals!
I take a steady approach, no need to run before you can walk and in my 9 years of experience this is the best way to achieve sustainable, long term results. Regardless of your goal whether its muscle/strength gain, rehabilitation from injury or fat loss we will always work on improving your general joint mobility, muscular imbalances/posture issues and general fitness to achieve an overall healthy body composition and movement pattern, on top of reducing the risk of injury and the aches/pains that come with them. Truly Rebooting your life.
Give me 90 days and I'm confident we can improve your physical, mental and emotional health whilst enjoying the journey, every step of the way. Let me help you build confidence inside and outside the gym, it's not impossible!
Specialist Areas
Bespoke plan
Body confidence
Body fat reduction
Functional specialist
Injury prevention and rehabilitation
Muscle tone and development
Nutritional guidance
Persistent motivation
Postural correction
Sport specific training
Strength and conditioning
Weight loss
Qualifications
Level 4 Nutrition and Weight Management Coach
Level 3 Personal Trainer
Level 2 Fitness Instructor