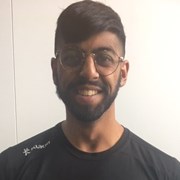 Vishal Patel
Finishing University with a degree in Biomedicial Sciences to turn to Personal Training to help people become the best version of themselves. This is passion, this is not a day job for me. I have the luxury to impart what I have learnt to others and to me, that's the best thing I can do.
I want to help you progress in any aspect that you want. If you don't have a clear goal then we can outline areas where we can get you to. We work together at this, you are not alone in this journey. Sometimes this is not an easy task and I am here to tell you to do the hard things otherwise I am not doing my job. Balance is everything and working closely with me will only build our relationship to get you where you want to be. 
Don't expect an easy road ahead, don't expect a walk in the park. I am here to make you do the things you won't do but you need to do. There is no bigger satisfaction than feeling confident in yourself. 
I am always learning, always researching to keep on top of this ever-growing industry. 
Being healthy was once a hobby, now it's second nature but I still have fun whilst I'm at it! 
Book in for a chat and let's start the journey now.
Specialist Areas
Body confidence
Muscle tone and development
Nutritional guidance
Strength and conditioning
Weight loss
Qualifications
Bsc (Hons) Biomedical Sciences
Level 3 Personal Trainer 
Level 2 Fitness Instructor
Emergency First Aid at Work