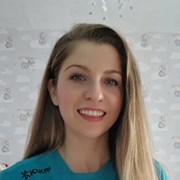 Viktoriya Karmadzhieva
I am a mother of two beautiful boys, and I have always been into a healthier lifestyle.  My fitness journey began after my first pregnancy when I had gained a lot of weight.  It made me lose my self-confidence and I and I really wanted to change that.
Not only did fitness improve my self-confidence, but it's has also CHANGED MY LIFE!
I get very passionate about creating healthy habits and improving lifestyles.  For me, being healthy is so much MORE than just a number on the scales.
I truly believe that being healthy means looking after your body as well as your mind.  Your mind is a powerful tool that is often overlooked regarding your health. So, if you want to improve on all aspects of your life, take that first step and make that decision.
IT STARTS WITH YOU!
Specialist Areas
Bespoke plan
Body confidence
Body fat reduction
Muscle tone and development
Weight loss
Qualifications
Level 2 
Level 3 Personal Trainer
First Aid