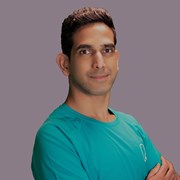 Vibesh Karayil
Hello! Thanks for reading my profile.
I am Vibesh (ˈvɪbiːsh). I am here to offer 1-to-1 personal training and online coaching under my brand Fitfoody.
About Me
I have always been a recreational athlete. I got into fitness and lifting weights in my mid 20's. However, things started changing when I moved through different phases of life: higher education, an office-based role, work stress, socialising, parenting all leading to lack of physical activity caused me to gain weight and it started affecting my life. Despite all these setbacks, I was naturally inquisitive about fitness, nutrition and exercise principles & kept learning about exercise techniques, hypertrophy and fat loss.
In 2017, I started to re-focus on my physical and mental fitness. When it comes to my own training my motivation is unparalleled. I combine compound exercises, interval training & suspension training to break my limits and push through mental barriers. I managed to lose (14kg/2.2st) while reducing fat percentage from 18.3% to 9%. I also gained my formal personal training qualification right after this transformative journey. Well, that's enough about me!
How can I help you?
I am here to educate, motivate and help my clients to reach their fitness and health goals. My coaching approach is "SIMPLE" as outlined below:
S = Set expectations
I = Invite commitment
M = Measure progress
P = Provide feedback
L = Link to consequences
E = Evaluate effectiveness
In this process I prioritise technique improvement, injury prevention and accountability. I strongly believe there is more than one way to achieve your fitness goals. To make fitness more fun and enjoyable I mix a varied training method, my personal favourites being compound exercises, plyometric training, high intensity interval training and suspension training.
As an individual I am happy, outgoing and totally approachable. Come and say hello when you see me at the gym floor or in one of the group classes!
Specialist Areas
Body confidence
Body fat reduction
Persistent motivation
Weight loss
Qualifications
Level 2 – Gym Instructor
Level 3 – Personal Trainer
Level 3 Nutrition for Physical Activity