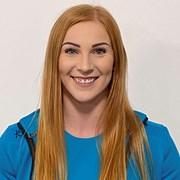 Sophie Beardsell
Hello, I'm Sophie and my fitness journey began through dancing at a very young age and, with this, body confidence was highlighted right from the very beginning. This gave me the discipline and a solid foundation, both mentally and physically, towards my own personal growth and development, which I now want to help others achieve.
How can I relate to you?
Within the dance industry body image is everything. Being able to maintain fitness levels and stamina, keep toned and stay 'in shape' needed constant motivation. This experience means that I can pass on my knowledge and help you every step of the way. 
Throughout the past six years I have danced professionally on cruise ships. In between contracts, to further my knowledge of health and fitness, I have found courses that reflect my dance experience and fell in love with Zumba. This led me to qualify as a Zumba instructor which in turn opened my eyes to STRONG Nation (this class incorporates movements such as burpees, squats, lunges etc. to music).
My passion, drive and commitment is part of the service I provide to each individual client. I want to  help change your lifestyle, mindset and confidence whilst bringing fun and enjoyment to each session as we work together to achieve your goals!
Specialist Areas
Body confidence
Muscle tone and development
Qualifications
Level 3 in Personal Training
Future Fit Training COVID-19 Rehabilitation Course
ZUMBA

STRONG Nation
Burlesque Chair Dance Instructor