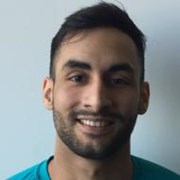 Shakti Sillett
You've been coming to the gym for a little while now, to the point where it's become a habit. You might run on the treadmill for a bit, move to the rowing machine (maybe even use the Stairmaster if you're feeling adventurous), then you head over to the free weights and come to the occasional class.
It worked for a while, but somehow you aren't getting anywhere anymore and you're wondering why. Sound about right? That's where I come in.
Together, we will get you to what you want most - into that new little black dress, beach ready for the summer, doing the splits, performing a pistol squat or ready for your first 5K. So what are you waiting for?
Specialist Areas
Bespoke plan
Body confidence
Body fat reduction
Nutritional guidance
Sport specific training
Strength and conditioning
Weight loss
Qualifications
Level 2 Gym Instructor
Level 3 Personal Trainer
Qualified Studio Cycling Instructor
Qualified Circuits Instructor
Qualified Gym-Based Boxing Instructor