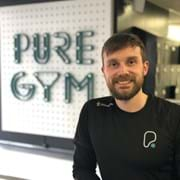 Scott Simpson
Being a Personal Trainer for a number of years has given me the opportunity to work with a wide variety of different clients. My reputation has been built entirely on the standard of service I provide to each individual, with my sole objective being to give you all the necessary tools to facilitate your personal fitness journey. 
I've coached people with widely different fitness goals from significant life-changing weight loss to improved strength and performance - and everything in between. I've managed to achieve great results thanks to a strong knowledge base built through years of education, experience and continuous self-development. I pride myself in being able to provide a solid support system which involves a personal approach, looking in-depth at training, nutrition and lifestyle to not only guide you towards achieving your goals but also maintaining these results. 
I don't offer quick-fix solutions or adhere to fad training or nutritional protocol. The results I help people to achieve are provided in a manner which promotes sustained progress through the development of life-long habits. 
Qualifications
Register of Exercise Professionals (REPS) Level 3 Certified
BSc Sport and Exercise Science
CYQ Level 3 Personal Trainer
CYQ Level 2 Gym Instructor
Circuit Training
Gym Based Boxing
Studio Cycling
Sports Nutrition