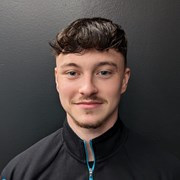 Sam Leyland
Hi I'm Sam,
I started my fitness journey as I've always had a huge passion for fitness. Growing up I've competed in various sports and always loved the thought of going to the gym and improving yourself. One day, I started the gym with my friends and I immediately was hooked. I become obsessed with learning about how the body works, learning loads of different exercises and found exercises that work best for me. This is what motivated me to become a personal trainer. 
For the time I've been a personal trainer, I've had a lot of experiences. I have had the chance to fly out to Australia to help young athletes reach their potential, I've linked up with different countries around the world to help their athletes reach their goals, I've helped a lot of people lose weight and gain muscle, making them more confident and I've helped a lot of people gain weight and muscle making them more confident. 
I believe that hard work pays off, with 24/7 support and a tailored diet plan, as well as a designed training program set to every individual, you will definitely reach your goals! 
Feel free to approach me on the gym floor or ring/message me for more details on my services! 
Specialist Areas
Body confidence
Body fat reduction
Injury prevention and rehabilitation
Muscle tone and development
Nutritional guidance
Persistent motivation
Sport specific training
Weight loss
Qualifications
Level 2 Gym Instructor
Level 3 Personal Trainer
Level 3 Sport & Exercise Science Diploma