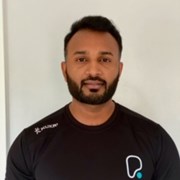 Sahad Alathoor
I have personally been working out for the previous fifteen years. Fitness training isn't just about training singularly, it is about the friends and relationships you build on the journey. After a working day that was the first thought that came to my mind - training.
Training because you love seeing the results of personal progression and achieving the physique that you desire! Having the time for yourself to wind down and re-set your emotional set point for the next day.
Health is an important aspect of Self-care, everyone has their ambitions and ideal of a goal which they want to shine. I'm ready to listen to what your fitness journey was and what you want to achieve now, dream big, every goal is possible when you take that first step and start to believe in yourself.
That you can do this!
I'm Sahad, if you see me in the gym, please come over and introduce yourself I look forward to meeting you and helping you start your fitness journey.
Specialist Areas
Bespoke plan
Body fat reduction
Muscle tone and development
Nutritional guidance
Persistent motivation
Strength and conditioning
Weight loss
Qualifications
Active IQ Level 2 Certificate in Fitness Instructing (Gym) 
Active IQ Level 3 Diploma in Fitness Instructing and Personal Training