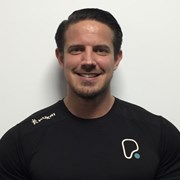 Richard Bryant
I have always been athletic and into sport. At 14 I was playing semi-professional football. Also, swimming and sprinting were my strengths and I was involved with the Essex club.
I started weight training in 2008 and was approximately 11st and a slim build. When it comes to training my clients I like to mix it up with a variety of training to achieve the best results.
I like to motivate and educate my clients as much as possible and help them with that one last push. Nutrition is key when it comes to achieving their goal and as a Trainer I like to make sure my clients understand the importance of their diet.
A little bit about my experience as a Personal Trainer, I worked at David Lloyd for 18 months and decided to go freelance for about a year, I then moved into fitness management with LA fitness for the remaining six months before it closed.
I have decided to go back into Personal Training as I missed the passion and helping others achieve their goals.
Specialist Areas
Body fat reduction
Muscle tone and development
Nutritional guidance
Sport specific training
Strength and conditioning
Weight loss
Qualifications
Level 2 Fitness Instructor
Level 3 Personal Trainer
Studio Cycling
Sports Nutrition
Circuit Training
Gym Based Boxing
Power Plates
Kettlebells