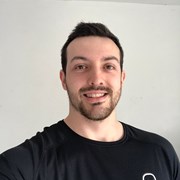 Rich Reeves
Hi, I`m Rich!
I am passionate about helping people become the best version of themselves, not only in the physical sense but also regarding mentality and overall health. Whether you want to improve your strength, lose some body fat, get back to training after an injury or you`ve lost confidence in yourself, I can help you get to where you want to be. 
I have a lot of experience in how injuries, poor function and low body confidence can affect mental health. Oftentimes these barriers mean you must work harder to find new ways to challenge yourself and overcome your struggles, As a father of 3 I understand how hard it can feel to take the time for yourself in order to work on self improvement. I am here to help you through your own struggles and support you through the process of becoming the person you want to be. 
Throughout my own journey to get back on track and strengthen my body for my martial arts goals I gradually got more into weightlifting and strength training and found great improvements in not only my body, but my mindset and confidence. 
I would love to help you on the path towards becoming the best version of yourself, contact me if you`re ready to make these changes together towards a stronger, healthier future!   
Specialist Areas
Body confidence
Body fat reduction
Injury prevention and rehabilitation
Muscle tone and development
Persistent motivation
Strength and conditioning
Weight loss
Qualifications
Level 3 Personal Trainer
Level 2 Gym Instructor