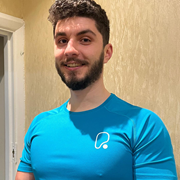 Razvan Draghici
Hi I am Razvan,when I first began my adventure with fitness I was anything but the picture of health.I was underweight and I realized it was because of my lifestyle.I decided to do something about it and I did.
I did,however,have multiple ups and downs.It took me years to make a decision to thoroughly examine my workouts and make necessary changes.
I am very passionate about helping others to find happiness in life and feel good about themselves. I believe that when you FEEL GOOD, you excel in life.
For me,a healthy lifestyle is much more than just lifting weights.Its about stretching,warming,eating healthy,and getting necessary rest and enough sleep.I love helping others,see and experience what their bodies are capable of with just enough hard work.I make it a goal to help you achieve a happy and well-balanced lifestyle that will minimize the risk of future health-related issues.
If you are interested in getting started,you can join me today.Yes,it takes motivation,determination,and consistency to succeed.Although it may not always be easy and you may face a few hurdles,you can be sure that you will eventually look at your body in a whole new light.You will not only look good but also feel better,happier,and more confident. All you have to do is take the first step on the journey to your new life.
Specialist Areas
Body confidence
Body fat reduction
Muscle tone and development
Nutritional guidance
Postural correction
Strength and conditioning
Qualifications
Level 3 Personal Trainer
Nutritional Advisor
First Aid Qualified