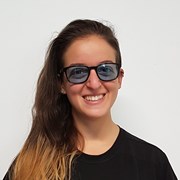 Contact
Free first session offered
Email me
Pennie Varvarides
Whether you're looking for that push to get off the sofa or you're training for your next hardcore competition, I can help you. I work with clients to hit their personal fitness goals on an individual level because we all know there is no one-size fits all when it comes to being healthy. I am not a transformation coach and I won't promise you the body of your dreams in six weeks because I think it's unrealistic and unhealthy. What I will promise you is a stronger body, a stronger mindset and the ability to walk around in real life – as well as the gym – with confidence.
Reaching your goals is about more than what you do in the gym. That's why I support my clients beyond our sessions, with plans and guidance and a community of like-minded individuals who support each other. For a sense of this spirit come to my strength class at 8.10am on Tuesdays.
I know that getting fit isn't easy, especially if you're trying to do it alone. Believe me, I've been there. I've been trapped in that cycle of diet, diet, binge; of train, train, nothing. I broke the cycle by changing my approach; by changing my mindset. And I help clients make the lifestyle changes they need to avoid repeating the same mistakes over and over again. I give my clients the tools they need to come in by themselves and get on with the work – even if they're starting from complete beginners.
Forming healthy habits and breaking bad ones isn't as hard as it may feel. And though it may look like it, this isn't a battle of will. I can help you find what works for you – and we're going to have fun doing it. All you need to do is want it.
Specialist Areas
Bespoke plan
Body confidence
Body fat reduction
Functional specialist
Injury prevention and rehabilitation
Muscle tone and development
Nutritional guidance
Strength and conditioning
Weight loss
Qualifications
Level 3 Personal Training

Evidence-Based Nutritionist, MacNutritionUni

England Athletics Coach in Running Fitness

England Athletics Leadership in Running Fitness

Posture Analysis and Correction

2nd Dan Blackbelt, Taekwon Do

Philosophy Degree

Journalism Postgrad