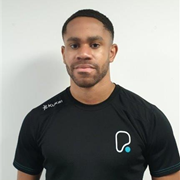 Contact
Free first session offered
Email me
Oscar Okafor
ABOUT ME 
My name is Oscar Okafor, aka 'OscarMyke' and I am an experienced coach and I offer a range of services! This includes Personal Training, Boxing Workouts, Group Workouts and many more!
My fitness journey had started from the age of 13, where I decided to pick up weights and take it seriously. Started to build muscle in my slim body, started to get stronger and gained more body mass. Until I reached my late teens, I started to pick up Muay Thai and Mixed Martial Arts.
From when I was of legal age, I've decided to go to Middlesex University to study for my bachelor's degree in Sport and Exercise Science, to gain an understanding of the human anatomy, what the body is capable of doing and how to apply that knowledge to not only athletes, but to the general public.
I now currently train on a daily basis in Brazilian Jiu Jitsu as a blue belt, boxing as a novice/amateur and Strength & Conditioning.
The experience I have gained was from working with a variety of people, from children, to youth athletes to sedentary people who work a 9-5 who are looking to improve their physical and mental well-being! With anyone that I train, my goal is to improve on their lives and help them become the best versions they can be!
WHAT CAN I DO FOR YOU?
An accomplished trainer in providing results-based and long-term personal training for all genders in North London.
Providing training that is simple, effective and challenging enough to aid in building strength and muscle, preventing injury, enhance fitness levels as well as developing skills in boxing and kickboxing.
WHAT DO I SPECIALISE IN AS A PERSONAL TRAINER?
Strength and Conditioning
Boxing Padwork
Muay Thai/Kickboxing Padwork
Circuit Training
Kettlebell Training
Group Fitness
Specialist Areas
Bespoke plan
Functional specialist
Sport specific training
Strength and conditioning
Weight loss
Boxing
Qualifications
Level 2 Fitness Instructor
Level 3 Personal Trainer
First Aid
BSc in Sport and Exercise Science