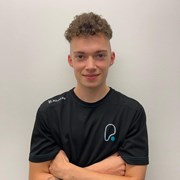 Nathan Hawkins
Hi, if you don't know me then I'm Nathan. I'm a personal trainer at your gym, feel free to come and say hello and make conversation. 
I started working out when I was in the later years of high school because I hated being the skinniest, smallest kid out of everybody that I knew. Even though I still want to build muscle and get bigger, the main reason why I work out now has changed more to the mental health benefits from regular exercise. I love all sorts of training from weights, cardio functional and calisthenics and I love mixing it up depending on how I am feeling.
I became a PT as I wanted to help people reach their goals and wanted to be part of people's transformation (not just physical transformation but mental as well). I am also in university working towards a degree in sports science which benefits me a lot in the gym environment.
Enough about me let me hear a bit about you by coming to me in the gym or connecting with me on social media. If you're interested in working together to help reach your goals, then you can drop me a message on Instagram @nathanhawkinspt or an email at nathan.hawkins1@outlook.com.
Specialist Areas
Body confidence
Body fat reduction
Muscle tone and development
Boxing
Qualifications
Level 2 Gym Instructor
Level 3 Personal Trainer
D* in HNC Sports Science