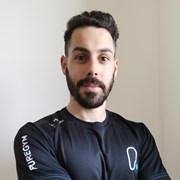 Michele Poeta
I started to be passionate about fitness back in 2015, when I decided to totally change my life.
Back then I reached a point where i had to make a choice: either keeping my unhealthy lifestyle and risking serious health consequences or start taking care of myself.
My alarm call was when after climbing a set of stairs, I found myself out of breath... and I was only 27!
That episode made me realize that i needed a CHANGE.
I then started to take my diet and exercise routine more seriously and best of all, I quit smoking completely changing my lifestyle.
Now 6 years on this fitness journey it has given me so much that i want to help others, who like me want to make that CHANGE.
-Are you struggling to achieve your fitness goals?
-Do you want to feel more confident about your-self or your body?
-Do you want to improve your overall wellness?
I can help you to change.
Get in touch now!
Specialist Areas
Body confidence
Body fat reduction
Muscle tone and development
Nutritional guidance
Weight loss
Qualifications
Level 3 personal trainer
TRX Instructor 
Kettlebell training
Level 4 Nutrition Coach